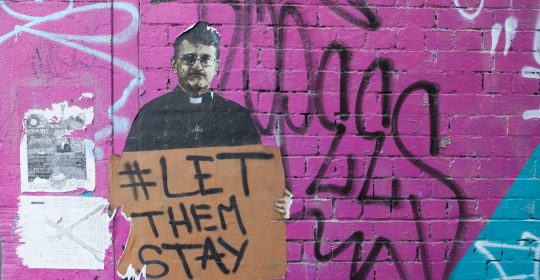 The Asylum Seeker Resource Centre (ASRC) warmly welcomes the Victorian State Government's weekend funding announcement of $600,000 to assist refugees and people seeking asylum.
The financial package will assist people in Victoria caught by the Federal Government's recent cruel decision to remove basic income and housing support to around 400 refugees and people seeking asylum. This new policy forces them onto final departure visas, with the intention to expel them from Australia. This group were transferred from Nauru and Manus island to community detention in Australia for medical reasons, but includes babies born in Australia.
The State Government will, with the Victorian refugee sector to deliver the package of assistance, which includes funding for accommodation, basic necessities, and case workers. This contribution, along with the incredible generosity of support shown by the community, will mean that men, women and children will not be forced into homelessness and destitution.
Responding on Twitter, ASRC CEO Kon Karapanagiotidis said in a statement, 'It is great to see the state government rallying and standing up to #LetThemStay.'
In announcing the assistance package, Premier Daniel Andrews said, 'We're making sure these families will have a roof over their head, clothes on their back and food on the table.' The Premier also took to social media, declaring, 'They deserve our respect and our compassion. And if our country can't provide it, then our state will.'
The funding package announced by the Andrews Labor Government marks an unprecedented intervention at state level into support for people seeking asylum. The ASRC now looks forward to continuing a dialogue with the State Government about the rights and needs of people seeking asylum and Australian refugees. 'We know this will be an ongoing need and the ASRC is there for the long haul,' Kon stated.
The State Government's press release can be found here.
Leave a reply →