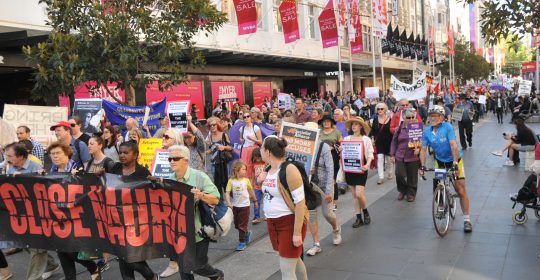 An account of #BringThemHere rally 8 October 2017
Hundreds matched in solidarity on the streets of Melbourne on Sunday.
Amongst them, one message echoed beyond the posters and banners they carried. That message was on their faces and in their voices and it was very clear. We can do something to break or save the people being held at Nauru and Manus Islands.
"They are at breaking point. People are at a grave risk. With every day that passes in my work, I wait in fear of news of another death. This week my fear came true," was the message from Natasha Blucher, ASRC Detention Advocacy Manager at the rally which attracted hundreds of well-wishers.
The same message reverberated in all the speeches, not only in Melbourne but also in Canberra, Sydney and beyond. A message calling upon all to rise up and help the helpless, who have been detained for over four years for no crime and with no justice.
It was the message at the rally organised by the Refugee Action Collective (Victoria) to help people understand the magnitude of the problem at the detention centres and was not surprising that the crowd joined them as they matched and encouraged them on.
Others couldn't hold their tears as they listened to testimonies of the detention victims who were struggling with life after being released with their reply of "shame on them" to the perpetrators of injustice ringing high in unison.
Speaker after speaker told of the deplorable conditions at the camp made worse by switching off of power, denial of basic medical care and attention and curtailing their communication to the outside world for help.
"Our leaders must stop denying that offshore camps are in crisis because people are continuing to die. The people I am speaking to are just clinging to survival," read a statement from RAC.
This was echoed in a message from one of the inmates,who had been imprisoned for no reason.
"We (are) also human. We have families and friends. We have feeling(s) too. We are not animals even we can't compare with animals because they have freedom. If we are (in) prison, they (we) know when (we) will go outside. We don't know who we are. Please help us. How many people will die in (the camp)? Please no more (people should) die in here, please help us."
Leave a reply →