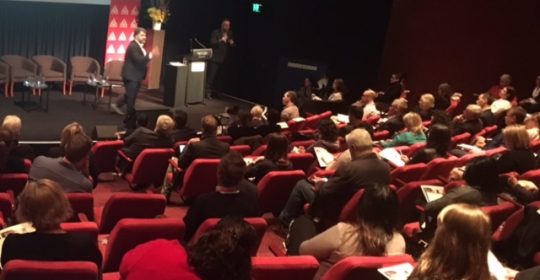 Founder and CEO of the Asylum Seeker Resource Centre (ASRC), Kon Karapanagiotidis delivered the opening key note address to this year's Australian Council Of Social Services (ACOSS) National Conference: 'Australia in 2030: creating the future we want', held 24-25 October in Melbourne.
ACOSS is the peak body for community service organisations in Australia and a strong advocate for reduction of poverty and inequality.
Kon Karapanagiotidis founded the ASRC sixteen years ago to provide food, health and legal services to people seeking asylum in Australia.
The ASRC has been a bulwark in protecting 1000s of people seeking asylum from poverty and destitution.
Kon and the ASRC challenge abusive humanitarian immigration policies by successive governments that are responsible for impoverishing 1000s of future Australians.
The Department of Immigration and Border Security this year alone has cut off income support for women, men and children seeking asylum, restricted study rights for people over 17, and forced people to depend on community services and government support by removing the right to work, not to mention mandatory detention on and offshore that has been heavily criticised on human rights.
Policies that have deliberately placed 1000s of people, including children in great distress, in harms way and in uncertainty over their safety, security and future.
Kon said: 'Australia is a wealthy country with the means to make sure no one lives in poverty and suffers inequality, yet we see impoverished children, families, single parents, and rising homelessness, unemployment and insecure work'.
'The government not only continues to ignore the facts on inequality, but finds new ways to humiliate and criminalise vulnerable people, such as drug testing for welfare recipients'.
'This harsh, punitive and harmful approach towards vulnerable people is reflected in the treatment of people seeking asylum applying for our protection'.
'A shift in attitude and culture is urgently needed if we are to have a bright future in our country, with opportunities for everyone to thrive and contribute to building our society, not just the privileged'. Kon said.
Leave a reply →