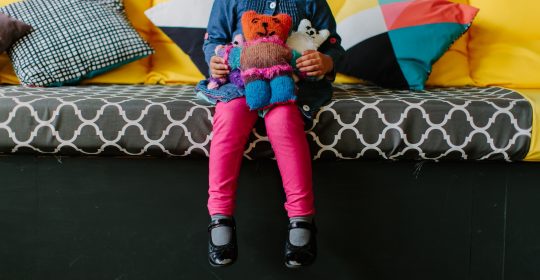 As the holiday season approaches many Australians turn their thoughts to family gatherings, coastal trips, or an escape to the air-conditioned comfort of a cinema screening. Often at the centre of this activity are our children. Even the more jaded among us get a kick out of the excitement and anticipation on the faces of the nation's young as they wake oh-so-early on Christmas Day, or hit the summer surf for the first time, or stare in wonder at the latest Hollywood blockbuster.
But sadly, right now, there are too many children incarcerated in detention camps facing a very different prospect for summer and beyond. These children, including 45 offshore on Nauru, are growing up behind fences.
While not disguising the fact that there are vulnerable children in our own community who are 'falling through the cracks,' the Australian Human Rights Commission reports, 'Most children in Australia grow up in a safe, healthy and positive environment. Broadly speaking, children in Australia have access to high-quality schools and health services. Most live in safe and nurturing homes, where they can pursue their interests, be involved in their communities and plan for their futures.'
Reinforcing this 2014 snapshot, headline indicators from the Australian Institute of Health and Welfare across areas like health, family and community, and early learning and care, reveal some heartening statistics. As of 2016 more than 90% of Australian children are fully immunised by two years of age and meet national minimum standards for numeracy and reading in Year 5. Furthermore, as at 2011, only 0.3% of children aged 0-14 years reside in households where there are overcrowding.
On the other hand, the plight of children in detention illustrates a stark dichotomy from the snapshots reported above. The Asylum Seeker Resource Centre (ASRC) knows, for instance, that growing up is difficult in a space the size of a football field, with little room for children to explore, play games and be active. A child in detention can experience stunted growth, enduring physical ailments and severe mental trauma and PTSD as a result of longterm detainment. We are also aware that a child in detention will spend less than two hours a day in an inadequate and under-resourced school with children from all ages with different learning needs. Moreover, in detention, meals are restricted to set times each day and are very basic with little nutritional value. Healthy snacks such as fruit are not available between meals. Water, too, is scarce, often rationed, and in some locations is polluted with phosphate.
As one mother of a young detainee says, 'It's very hard to have kids in Nauru – the heat, toilet facilities, the tent. Sometimes it's hard to find water and the food is not good. Sometimes we have to walk in heavy rain for food and toilets.' Another mother remarks, 'There is only one room to play for the kids. Only between 1pm and 2pm – just one hour each day.'
Responding to this ongoing circumstance, ASRC CEO and Founder Kon Karapanagiotidis says, 'People seeking asylum detained by the government simply wish to live in peace, to care for their children free from danger and with dignity. But despite years of confinement with no access to justice, our government continues to wash its hands of its responsibilities – leaving families in limbo. It also leaves a generation of children's hopes and dreams in tatters.'
As the Australian holiday season beckons it is timely to pause and celebrate the fact that a child in Australia will spend 188 days a year enjoying the freedom of weekends and school holidays. At the same time, we might pause to mourn the hard and unpalatable truth that a child is held in detention for an average of 441 days, with 25% being held for more than two years.
What you can do
Your donation advocates for men, women and children in detention to ensure they have access to legal and medical aid, and casework. A gift today also supports and empowers over 4,600 people seeking asylum and refugees each year with the provision of detention advocacy support, food, housing, material aid, medical assistance, legal aid, counselling and employment services.
Leave a reply →