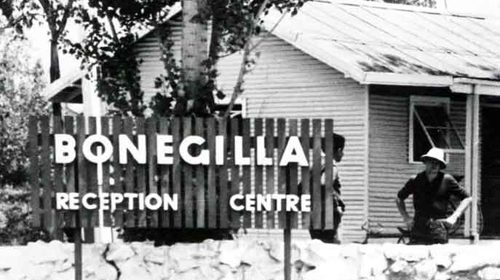 My name is George. I am 90 years old and I have lived in Australia for 65 years. I arrived by boat on Anzac Day in 1951 and was taken to the Bonegilla Migrant Camp for processing. It was very different to the detention camps we have these days. Bonegilla was in a beautiful Australian bush setting, in northeast Victoria, surrounded by gum trees and greenery. Most importantly, there were no fences. We were free to walk around anywhere and could even go swimming in the Murray nearby!
Even though I was officially identified as a political refugee, my documentation did not refer to me in that way. I, and others like me, were called 'New Australians.' As well as free transport to Australia, I had a government-sponsored contract committing me to work in an approved manual job for two years, and the right to continued residency. I was eligible for Australian citizenship after five years.
My first job was cleaning and polishing car bodies – a world away from my last job before retirement as Assistant General Manager of Finance at a large, life insurance company. When I first came to this country, Australians were friendly and helpful towards me. They were kind. They weren't afraid of me, and didn't treat me with suspicion because I spoke English with an accent.
The government policy then wasn't based solely on a charitable attitude towards the hundreds of thousands of war victims stranded in Western Europe after World War II. It was also inspired by a need to increase the Australian population, and by the many economic benefits that hardworking, tax-paying migrants could bring – including increasing the country's GDP and helping build a robust economy. Migrants also participated in unpaid labour undertaking tasks like assisting on Parent-Teacher Committees, helping with fundraising drives and other volunteering. I participated in many activities like this in my years in Australia and know many other migrants who did too.
These days, migrants are not so lucky. It's disappointing to see the way that our government and the media spread fear and hatred in reaction to wars and terrorist activities around the world, forgetting the human victims of that violence.
Worse still, our government is incarcerating refugees in detention centres. These people have the right to seek asylum, yet they are locked up and denied the chance to live as Australians.
In my time, the government looked at hard-working and law-abiding migrants and recognised their potential, not only as tax payers, but also as proud and active members of their communities. Somewhere along the way, with the rise in non-European people seeking asylum, they seem to have forgotten that.
That is why I have asked my daughter Liz to donate to the Asylum Seeker Resource Centre (ASRC) on my behalf. Even though the Australian Government has turned its back on people seeking asylum, the ASRC has not, and I am happy and honoured to have the opportunity to give something back to support the people that by all rights should be welcomed here – just as I was all those years ago.
If you feel inspired by George's story, please donate here.
The ASRC is fighting to end mandatory detention and all donations, big or small, are incredibly helpful.
Leave a reply →