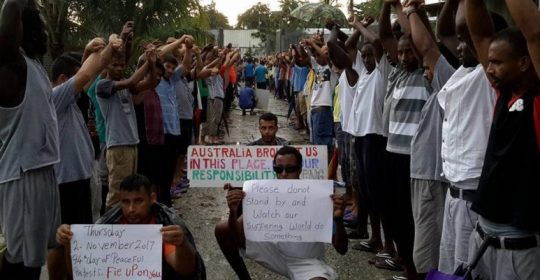 Aziz is one of about 600 men on Manus Island. One of those men who are desperate to leave but determined to stay, all at the same time. He is from Sudan, and has been on Manus for the past five years.
Often, he and the other men were supported by the ASRC, and wondered where they would be without them. They wondered whether they would ever get the chance to thank those from the centre in person.
It seemed a hope as remote as being granted settlement in Australia.
But it became reality last month when ASRC founder and CEO Kon Karapanagiotidis, director of advocacy and campaigns Jana Favero and detention advocacy manager Natasha Blucher visited the regional processing centre.
"I can't find the proper word in English to describe your visit to us," Aziz said in a recording provided to the ASRC.
"In the last four-and-a-half years none of us in the detention centre dreamt that one day the ASRC would walk right inside the detention centre. But as they said, there is nothing impossible under the sun.
"We saw the hearts and the true face of Australians and because of you guys, your visit the other night gave some hope to the people who have lost hope completely. We were powerless and hopeless, but when we saw you we get a little bit of hope."
Aziz was empowered by the visit to issue a call to action.
"My message to the Australian people is what the ASRC team showed in the media – this is the fact, this is the reality, this is what the Australian Government has been hiding from you.
"They are using your names and reputation of your country, they are destroying it. And my message to you guys is to stand up, please wake up. Now is the time. No one knows what is happening in offshore, but what you are seeing through the ASRC and other media is the fact.
"This is what is happening on Manus Island."
Kon said that what had stayed with him about the visit – other than the inhumane conditions the men were been held in – was their spirit.
"Men I had no right to expect anything from given how my country had treated them, responded to me only with grace, generosity and kindness," he said.
"Our country would be lucky to call these men our own."
Jana described the men as human rights heroes, and the visit as profound.
"It's something I will never forget," she said.
Seeing men she had spoken to on the phone countless times gave Natasha even more ammunition to work on "searing advocacy" in their name.
"In understanding the horrific maze that is the system of offshore processing, there is no substitute for seeing it with your own eyes," she said.
Read the ASRC's report on the Trip to Manus here.
Leave a reply →