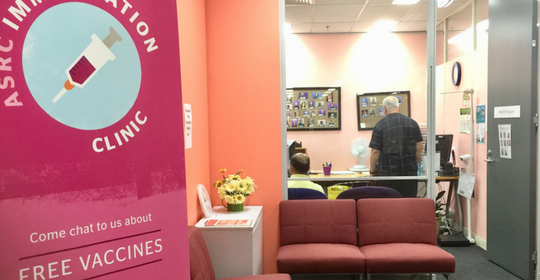 An overarching goal of the Asylum Seeker Resource Centre's (ASRC) Immunisation Project is that people seeking asylum are immunised in line with national Australian standards.
As the only project of its kind in Australia the project has been groundbreaking in the provision of health services and immunisation to vulnerable people without access to Medicare.
Beginning as a self-funded pilot in 2015, and expanded with the support of Victoria's Department of Health and Human Services, the ASRC's Immunisation Project last year assisted around 500 people: as of November 2017, 339 people had completed vaccinations, with another 158 clients continuing in their vaccination schedule.
ASRC CEO, Kon Karapanagiotidis says the project is contributing to ensuring all those living in Victoria are fully vaccinated against preventable diseases, and meeting the Australian Immunisation Guidelines.
'The vast majority of our members have had no immunisation at all in their country of origin, or since arriving in Australia, or have no documentation to confirm what they have received,' he explains. 'The project provides an essential health service to a particularly vulnerable group of people.'
The project operates within the ASRC's nurse-led Health Program, which provides a wide range of health services to people who, because of their visa status, generally do not have access to Medicare.
A full vaccination program takes, on average, four visits over four months to receive a total of 13 vaccinations. Prior to vaccination, the ASRC's nurse immunisers discuss a significant amount of medical information with the client, including details of vaccines and purpose, side effects, contra-indications, and Australian health policy on why people must be immunised.
Additionally, documentation of existing vaccination needs to be assessed. Every country in the world has a different vaccine schedule. This schedule has been developed in accordance with the disease burden, risk and cost of vaccines in each country. Working out what has been given in a country of origin, detention centre or other health care service involves substantial work pre and post-vaccination.
The ASRC rarely finds documentation meets the Australian Immunisation Guidelines and the majority of clients need to have the full set of 13 vaccinations. In making its assessment, the ASRC liaises extensively with other health services to confirm what vaccinations a client may have had, and ensure they complete the entire Australian catch-up schedule.
Nurse immunisers spend time building rapport and establishing a safe space for clients, as most people do not like receiving needles but need to have a lot of them to complete their catch up. For example, a person may receive up to six needles in a visit.
Kate, a nurse immuniser, explains, 'Injections can be a frightening experience for almost everyone, but for our clients in particular it can be a daunting experience. Many of these clients have gone through so much prior to this process that to be subjected to the fear of injections exacerbates their apprehension of commencing the program.'
Creating opportunity for holistic wellbeing
Importantly, the Project also provides pathways for further critical health care.
Whilst receiving their vaccines, clients usually see the same nurse immuniser several times over a four to five month period, developing a relationship of trust. In this environment, people frequently disclose other issues they are facing such as family violence, social isolation, mental health issues, or an inability to access other health services. This trust provides a conduit for referral into other services within the ASRC.
In the coming three years the Immunisation Project will continue to deliver existing services and broaden its client reach to include children; commence best practice Hepatitis B screening, advice and referral; and upload data to the Australian Immunisation Register to ensure immunisation records are complete and accurate and duplication is avoided.
---
Programs such as the ASRC Health Clinic would not be possible without the support of our community. Make a donations to help us provide critical services.
Leave a reply →