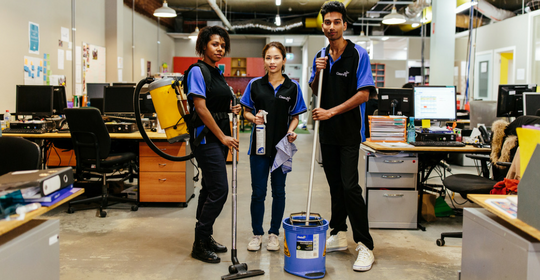 It's been a challenging journey getting to where they are, but after five busy years the team at ASRC Cleaning have built a sustainable business, and now they're ready to tackle a new goal; taking on the commercial market.
As a social enterprise of the Asylum Seeker Resource Centre, ASRC Cleaning has a mission to provide people seeking asylum with the opportunity for employment and growth. Chatting to ASRC Cleaning manager Flor Sedighi it's easy to see why taking on more commercial clients not only makes sense, but is the necessary next step.
'Employing our staff means more than simply providing a couple of hours work each week so they can get by.
'We want to make sure each staff member has the opportunity to earn a sustainable income to feel empowered and independent. Commercial jobs mean we are able to roster more staff, for more hours, and help our team start rebuilding their lives with choice, dignity and autonomy'.
Not only is the new goal a great opportunity to provide more hours, it will also create room for more training and responsibility within the team, ultimately getting them job ready for the mainstream workforce.
Flor explains 'we are deeply committed to creating employment pathways for our staff, and this means giving them the opportunity to up-skill.'
'All of our staff have completed their Certificate II in Cleaning and/or have extensive experience as cleaners. As our teams expand and the size of the jobs increase, it will provide opportunity for further training in management and supervision that they can then take on to employment outside of the ASRC'.
Having tested the commercial waters over the past couple of years, the team have already had great feedback proving they are more than ready to take on the new challenge.
ASRC ambassadors and Australian band, The Cat Empire, is one of ASRC Cleaning's longest clients, with Operations Manager, Rhianon Damas commenting:
'[We have] been using the services of ASRC Cleaning for almost 2 years now, and we are always happy with the attention to detail, communication, and well organised operations. Knowing that the people employed are on their way to building better lives here in Australia gives us even more reason to use the company'.
With the team gearing up for the next phase of growth, Flor expresses that their domestic services and treasured clients will not be forgotten.
"We love our domestic clients and it's really important for our staff to have a great mix of jobs, properties and interactions. This is an exciting opportunity for all of us and we can't wait to see what this new chapter brings."
To find out more or to get a quote for your business visit ASRC Cleaning, or submit an inquiry below.
Leave a reply →