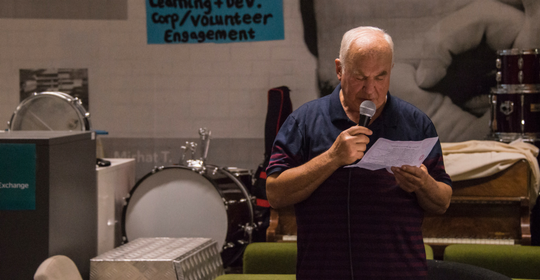 In Syria, Mohammed Sharabah started writing poems to try and make sense of the turmoil unfolding around him.
They were in Arabic, and were about his destroyed farm and business, and his displaced family; a life picked up and scattered across the world.
'If you have a sensitive feeling [about] what is around you, you should express it,' Mohammed says.
He felt hopeless, powerless. Until he started to write.
'My bullets are powerful yet gentle words,' he wrote in one poem.
And so, after he was granted a protection visa late last year, Mohammed reloaded.
He wrote a poem thanking the Asylum Seeker Resource Centre, and vowing to always remember them.
The poem, I will never say goodbye to the ASRC, was printed on personalised paper, like all Mohammed's work, and dated New Year's Day.
'After a long deeply tense feeling of being horrified.

'After my huge suspicious of no peace and safety in life.

'In ASRC I started my recovery back to humanity.

'In ASRC I started forgetting my melancholy,' it reads.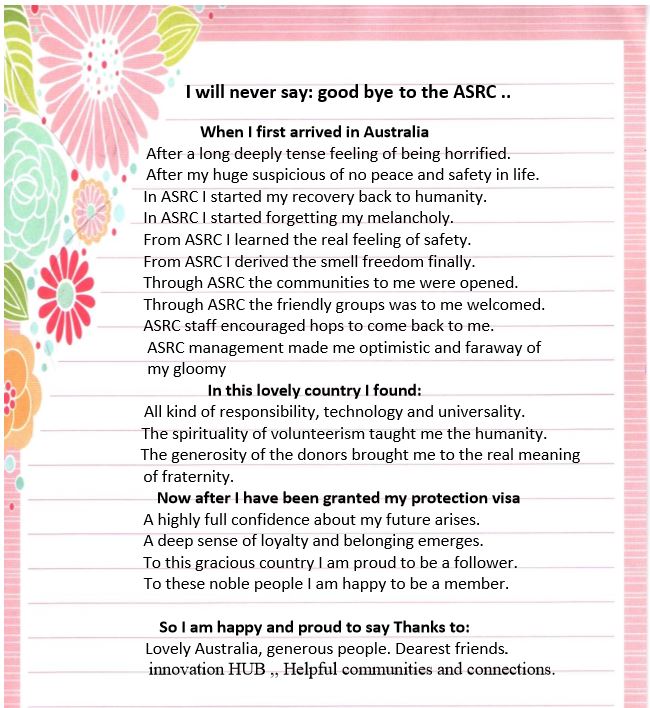 A man of his word
Mohammed has kept his word; he was at the February volunteer information evening, providing traditional Syrian sweets.
He has no plans to say goodbye, this year or any other.
He hopes 2018 gives him a chance to work more in the beautiful garden he tends, and care for his growing menagerie of animals.
He speaks almost as proudly of the 65 different kinds of green plant he has in his garden, which share his yard with rabbits and chickens.
And he hopes to keep improving his English. Writing poetry, and performing readings of it, will be a key to this.
It is no longer just a way to express how he feels about his homeland; it is helping him adjust to his new home.
He wrote his first poem in English in August 2016, while he was in the Red Cross centre in North Melbourne.
He described what he saw and felt in the office, and wrote it down. They loved it so much it was distributed to every staff member there.
So how does he describe his poetry? 'Like a splash of fresh water bright with thoughts and rippling reflections.'
---
Mohammed's experience with the ASRC is thanks to the generous donations that make it possible to supply essential services to support, empower and advocate for people seeking asylum.
Donate today and help the ASRC continue providing these essential services.
Leave a reply →