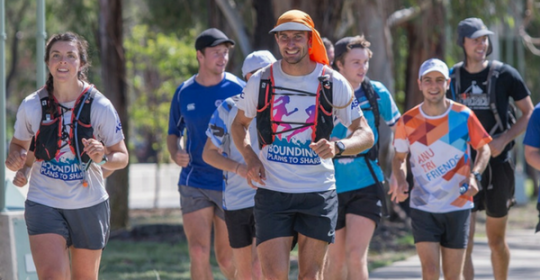 When it comes to raising awareness for people seeking asylum, for Bounding Plains to Share duo Cassie and Jackson the old saying 'walk a mile in their shoes' didn't quite cut it.
The inspiring pair decided they would take 4000 long kilometers to collect and share the stories of refugees as they ran from Cooktown in far north Queensland to Melbourne, raising money for the Asylum Seeker Resource Centre along the way.
Starting on 23 November 2017, Cassie and Jackson set off with the intention of meeting people with lived experience of seeking asylum in Australia, and sharing their incredible stories through the Bounding Plains to Share's website and social media pages.
The stories they have shared have struck a deep chord with the Australian public, with the duo being featured on Triple J's popular 'Hack' radio show, plus the ABC Canberra, NineNBN and numerous local papers as they run the length of Australia.
Now, almost 3 months later Cassie and Jackson are gearing up for their last leg of running, and for their grand finale as they cross the official finish line at the ASRC centre in Footscray.
Coming into Melbourne on the 2 March 2018, the ASRC will welcome Cassie and Jackson and the Bounding Plains to Share supporters where there will be an official presentation by the ASRC CEO & Founder, Kon Karapanagiotidis.
All are welcome to attend and cheer Cassie and Jackson on, and to celebrate their incredible achievement with morning refreshments from the award winning ASRC Catering.
More details of the event – including Cassie and Jackson's final running route for anyone who would like to run along – will be released via the official Facebook event page here.
Can't make it to the event? Cheer Cassie and Jackson on by donating to Bounding Plains to Share. All proceeds go to the Asylum Seeker Resource Centre. Donate here.
Leave a reply →