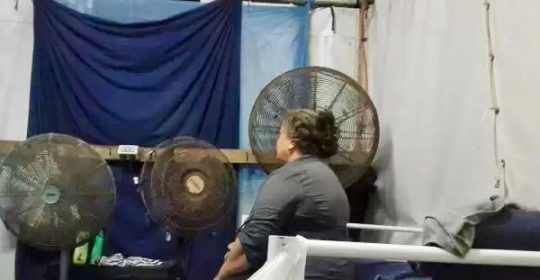 Fatemah is a 55 year old refugee woman with a serious heart condition, and is the primary carer for her adolescent son, who suffers from mental health issues.
The two have been detained in tents in the regional processing centre on Nauru since Fatemah's son was 12 years old.
A medical report written by physician Professor Maria Fiatarone Singh states that Fatemah 'is at extremely high and imminent risk of having a catastrophic cardiac event such as heart attack, or sudden death due to arrhythmia, given her risk factor profile and the fact that she has failed medical management.'
The medical treatment that Fatemah needs is not available on Nauru. Two years ago she was transferred to Darwin for treatment, but was sent back to Nauru without any explanation or treatment. A year and half ago, Fatemah was transferred to Port Moresby, but still did not access the treatment she needs.
Now Fatemah has been told she can only be sent out of the country to receive treatment if she leaves her son behind, alone on Nauru. Fatemah's son has experienced suicidal ideation, and has never been apart from her.
The Asylum Seeker Resource Centre (ASRC) has made several inquiries to the Department of Home Affairs regarding treatment for Fatemah. Home Affairs 'Global Feedback' has replied (can be provided o request) to the ASRC that the case has been referred to the 'relevant business area' and a response may not come.
Fatemah could be transferred to Taiwan or wherever the medical treatment is available, not necessarily Australia. She has made it clear she will go wherever the medical treatment is available, but cannot leave her son alone.
The ASRC is extremely concerned for Fatemah's life and the safety of both mother and son. And for the recurring medical negligence in offshore processing which is destroying the health of hundreds of people.
Professor Fiatarone Singh said 'the psychological pain and distress she feels revolves specifically around the well-being and safety of her son and her despair over the conditions they find themselves in.'
'Her son has never lived apart from his mother, and she has legitimate reason to feel that without her to protect him, he may suffer at the hands of others on Nauru or may self-harm if he is left by himself.'  Professor Singh said.
Detention Advocacy Manager at the ASRC, Natasha Blucher said, 'Not only is Fatemah faced with an impossible choice between her own health and being with her son but she is also the victim of a broken system.'
'Last November, I traveled to Port Moresby and witnessed first-hand an alarming rate of medical negligence, where people with treatable conditions such as kidney stones and heart conditions were left untreated for years.'
'As a rule, transfers for medical treatment not available in PNG are delayed and denied. The Department of Home Affairs is acting in an unnecessarily cruel manner. Fatemah is one case amongst many,' Natasha said.
The ASRC is calling on the Department of Home Affairs to immediately transfer Fatemah, together with her son, for urgent treatment.
All media inquiries contact Marcella Brasset on 0411026142 or email marcella.b@asrc.org.au
Leave a reply →