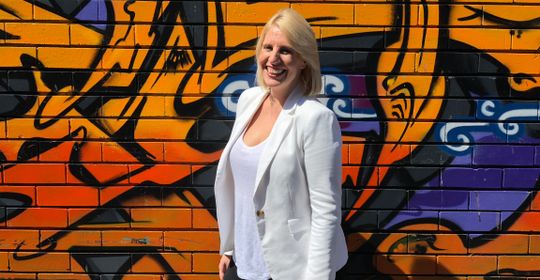 As a daughter of parents who migrated to Australia, the ASRC's newest Board member Suzana Vlahovic has a genuine passion for people, human rights, and promoting diversity and inclusion.
Suzana is an Audit Partner at Deloitte Touche Tohmatsu, a leading professional services firm that provides audit and assurance, tax, consulting, financial advisory and risk advisory services. Appointed as Treasurer to the ASRC Board in November 2017, Suzana is excited about assisting and guiding the organisation from a financial perspective as it continues its strong growth trajectory.
The ASRC CEO, Kon Karapanagiotidis warmly welcomes the appointment. 'Suzana is such an important addition to our Board. Her wealth of business acumen and financial nous is vital at a time of significant growth and opportunity for the ASRC, with all the inherent risk that comes with such challenge,' he says. 'This appointment also continues our vital commitment to gender parity at Board level; and Suzana's own experience as a daughter of immigrants only strengthens our organisational culture of inclusion and welcome.'
Accounting credentials aside, Suzana's prime motivation for joining the Board stems from her family history. 'My parents were migrants to Australia from the Former Yugoslavia in the early 1970s and my husband was granted asylum in Australia after fleeing war torn Bosnia in the early 1990s,' she says. 'Through the support of the Melbourne community, and organisations like the ASRC, my family has been extremely fortunate to begin a new life in Australia, which has provided me and my sister with incredible opportunities.'
ASRC General Manager Steve Betinsky also welcomes Suzana to the Board. 'As a qualified finance professional with over 16 years experience serving global, ASX listed and private companies, Suzana brings valuable financial acumen and expertise,' he says. 'Her appointment is timely given we enter into a period of increasing policy uncertainty for people seeking asylum in Australia, and as the ASRC embarks on the development of its three year strategic planning process for 2018 – 2021.'
In response, Suzana says she feels privileged to be part of the Board and the entire ASRC team. 'What amazes me the most about the ASRC is how Kon's simple vision in 2001 has now grown to be the largest independent human rights organisation for refugees and people seeking asylum in Australia, yet it still has such a wonderful community feel to it,' she says. 'I was astonished when I took my first tour of the centre. I couldn't believe the sheer size of the place and all of the varied services the organisation has to offer. It was inspiring to see all of the volunteers and staff working together for a common purpose.'
Suzana holds a Bachelor of Commerce from the University of Melbourne and is a member of the Institute of Chartered Accountants Australia and New Zealand. She is also a member of the Australasian Institute of Mining and Metallurgy (AusIMM). Suzana previously served as the Co-Vice Chair and Secretary of the AusIMM's NSW Women in Mining (WIMnet) Committee during which time she mentored females in the mining industry as part of the NSW WIMnet Mentoring Program.
Leave a reply →