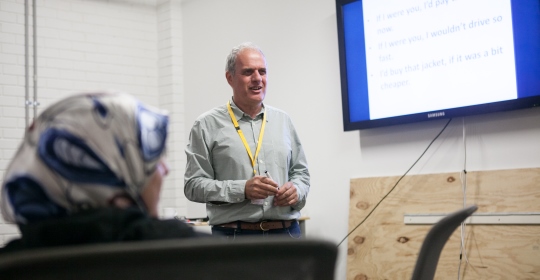 Over the past four to six months, refugee service organisations around the county, including the ASRC have been seeing increasing numbers of people at our doors for assistance to meet basic needs.
The Government's changes to life saving status resolution support services (SRSS) mean that people, including families, seeking asylum waiting for applications to be processed cannot pay rent, access mental health care or buy food.
The ASRC has seen the changes applied to people on a range of visas, in the government's complicated and punitive temporary visa regime for people seeking asylum in Australia.
Yet the government is now saying the changes are being applied to people on bridging visas, who cannot get permanent protection, and who are students studying English to spruik it's language test for new Australians.
People's protection status is still being determined, yet the government is labelling them as 'temporary' and confusing the public by preventing them from studying English and other courses.
What's more, under the government's deterrence policy, no one who comes to Australia by sea can become a new Australian, permanently. And 30,000 people are at risk of homelessness and crisis due to cuts to changes. The policy is clearly failing.
Director of Advocacy and Campaigns, Jana Favero said, "The government is confusing us by saying that people need university level English to become Australian, yet in a cruel twist of irony, the government is preventing people studying English by removing support services."
"The statements confuse the calculated cruelty to people who have fled their homes due to war and conflict and want to build a life in Australia with an attempt to bolster and expand contradictory policies."
"If you don't support people to meet basic needs, how can they learn to speak English and pass the government's own proposed language test? How can people find jobs to support themselves if they can't study" Jana said.
Leave a reply →