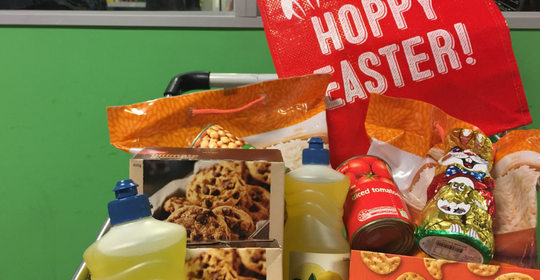 Easter. It's a time for indulgence, even amongst the strictest of us. It's the one time we let down our guard and delve into sweet treats, butter slathered hot cross buns and chocolate bunnies.
But while many spend the coming weeks overindulging, people seeking asylum in our community are struggling to put even the most basic of food on the table.
Thanks to recent cuts by our Government which denies basic income support to hundreds of people seeking asylum awaiting visa resolution, they are vulnerable and seriously at risk of homelessness and hunger.
Now providing food for well over 600 people every week, the Asylum Seeker Resource Centre (ASRC) Foodbank has seen a major spike in refugees and people seeking asylum relying on the ASRC for basic food and essentials.
Our Food and Goods Donation Coordinator, Karen Williams explained, the change in income has had a dramatic impact on the ability for the Foodbank to meet increase in demand.
'The increase in people with no income is having a huge effect on our capacity to feed people. This is stemming from the increase in people with no right to work, or having the right to work but not being able to find a job.'
'We operate on a points system, so people with no income get extra points because we know many of those people are relying on us to get their weekly groceries because they have no income to buy anywhere else, so we have to make sure they are a priority.'
The high demand has caused major shortages in the essentials, with many members leaving the foodbank without even some of the most basic food items.
'We need nearly two thousand litres of milk a week, and are running out. Parent's need it for their children, it's a basic need.' Karen explains.
'Last week we ran out of basmati rice, tuna in oil, tinned tomatoes. We had heavy restrictions on how much fresh produce people could get. It's making life hard for our members'.
To combat the increasing demand for food and to ensure no one goes hungry in the coming weeks, Foodbank has launched an Easter Essentials Hamper campaign.
For around $50, you can provide a large hamper of all the essentials people need. It's as easy as doing an online Coles shop which can be delivered for free, direct to the shelves of our Foodbank within 24 hours.
Can you contribute around $50 to feed a family of refugees by ordering the following:
Coles Basmati Rice 2 x 5kg $28

Coles Tuna Chunks in Olive Oil 2 x 185g  $3.20

Coles Tuna Chunks in Olive Oil 2 x 425g $6.70

Coles Diced Italian Tomatoes 2 x 400g $1.60

Coles Chickpeas 2 x 400g $1.50

Coles Ultimate 40% Choc Chip Cookies 2 x 400g $6

Coles BBQ Snack Bites 2 x 200g $2.80

Any Dishwashing Liquid 2 x 1L 

And an Easter chocolate treat of your choice
Visit Coles online here  then follow the instructions below.

How to order:
 Log in or sign up to Coles (right hand side of screen)

Select 'Choose a delivery/collection time' on the right hand side of screen

Select 'Choose another collection location nearby

Enter 'Deer Park' as the servicing suburb – this is the store that delivers donations to ASRC

Scroll to find Deer Park Coles Asylum Seeker Resource Centre Donation
(note: if you can't find Deer Park you can type it in manually to the search box)

Click on 'Choose a collection time'

Select 'Click & Collect' in the Tuesday 2.00pm – 4.00pm timeslot

Start shopping

Coles Online will collate and deliver all orders to us every Wednesday for free!
Order food for an Easter Hamper now
Want to add more?
The Foodbank is always in need for fresh produce, especially onions, potatoes, garlic, chilli and herbs.
If you have any issues, please email foodandgoods@asrc.org.au
Leave a reply →