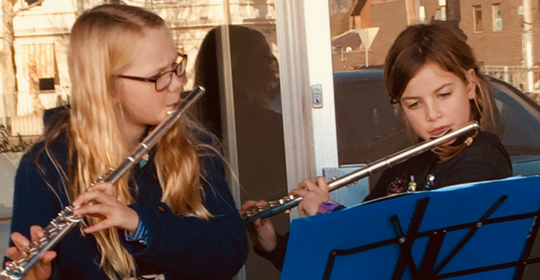 What happens when you have a positive learning environment, encouraging parents and a talent for music? You get the efforts of Allie and Grace, two friends who chose to busk with their flutes for two days – and ended up raising $250 to support refugees and people seeking asylum.
'They knew about your work from school,' says Allie's mum, Maree. 'And they wanted to go busking.'
'We know how lucky we are to live in our homes in a safe country,' the girls explained, 'and we hope that refugees who come to Australia feel welcome and find a place to be happy.'
Deciding to use their talents to show their support, Grace and Allie made a sign, grabbed their flutes and found a nice spot in front of a fruit shop in Clifton Hill. From there it was a simple matter of playing music and having fun.
'We love playing our flutes together, and feel really happy when we see people enjoy our performances.'
One passer-by stopped to give both girls twenty dollars each. Others stayed to listen to a particular song.
'They played 'My Favourite Things' out of The Sound of Music,' says Maree, 'and I was just watching a woman as she walked past, and she burst into this smile – and she stopped to say to them "Oh my gosh, that is my favourite song, you've just made my day". And it was just a good thing to do for so many reasons.'
Allie and Grace are just two of the many amazing children all over the country that give selflessly to causes they identify with.
That two primary school students can easily empathise with refugees and people seeking asylum, and want to do something to help, shouldn't be a surprise to anybody. But that doesn't make it any less inspirational and wonderful.
'If you start them young, it's important to encourage kids to do any kind of activity that supports their causes,' Maree says. 'I imagine they'll probably do this again, to be honest. You might see some more donations come in from the mighty Grace and Allie!'
Onlookers were generous both with donations and praise, often stopping to say how proud the girls should be for making a difference. And Grace and Allie were pleased to help out, too.
'We felt really proud when we donated the money we raised to the asylum seekers'.
Maree relates that they're socially-minded girls that attend the progressive Spensley Street primary school, play football, and love their music.
'It's important that kids have empathy and make some small contribution to the world. No matter how small it is, every kid can make a small difference. And they're really proud of themselves.'
We couldn't agree more, and we're extremely proud to have the support of Grace and Allie. It seems the future is in good hands.
Join our community today to stay up to date with good news stories, and hear all the latest news from the Asylum Seeker Resource Centre.
Leave a reply →