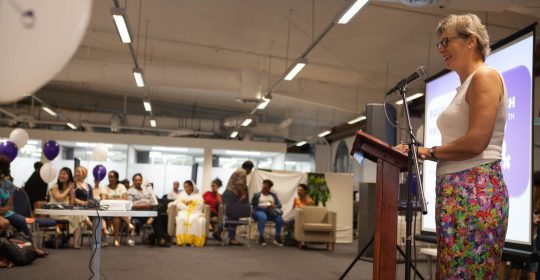 Earlier this year on International Women's Day at the Asylum Seeker Resource Centre (ASRC) three remarkable guest speakers shared their stories of settlement in Australia.
Cuc Lam arrived in Australia in 1978 under the wave of immigration facilitated by former Prime Minister Malcolm Fraser in response to the Vietnam War. Forty years later Cuc stands at the ASRC as the Mayor of the City of Maribyrnong, a municipality featuring residents from more than 135 different countries.
'I am so proud to be the Mayor of Maribyrnong, a place that people from all around the world call their home,' she says.
Recounting her refugee experience, Cuc states, 'I came here with nothing. I mean really. Just a little red suitcase.' Her story of settlement is one of hard work – she would often work two or three jobs at once – raising three children, and supporting a husband whilst he studied. She also wanted to improve herself, to 'contribute back to Australian society,' so she, too, studied for six years to gain a university degree. The hard work has paid off and she now has a 29-year career in the public service behind her. 'But my story is not unusual,' Cuc says.
'Many women have come here as a refugee or migrant and have successfully settled. They have shown strength, courage and bravery. There should be no hurdle or limitation that we cannot overcome with that.'
Elizabeth Drozd arrived in 1982 as a young adult under the special humanitarian program available to people who were fleeing the communist regime in Poland. For the past 27 years she has been working in the community services sector and local government. She was a Victorian Multicultural Commissioner between 2008 and 2015. Currently she is the Chief Executive Officer of Australian Multicultural Community Services, which provides in-home care and other support services to seniors and their carers in Melbourne and Greater Geelong.
Elizabeth, like Cuc, arrived with just a suitcase. 'I had only one suitcase but I think I had five suitcases of dreams and aspirations,' she says. These dreams and aspirations were born from living in a communist regime for 20 years where there had been no freedom of speech or association. But they also linked back to the dreams and aspirations of her parents who had missed out on a proper education due to the Second World War.
'I came here with no English, and no profession. I really didn't know what to do with myself,' she says. After three days she was working in a factory. She also quickly realised the only way to navigate her settlement journey was to learn English. She explains, 'I really couldn't see how I could overcome many of the barriers unless I was able to speak the language. So while working in a factory and having half an hour for lunch, I would have a dictionary in one hand and a sandwich in another.'
As with Cuc, Elizabeth also decided to study. 'I have studied for 12 years at a university level and it has really worked for me,' she says. 'And I'm so glad that I was able to. Not only to fulfil my own aspirations but also those of my parents, and particularly my mother who really wanted to have a much better future for all of us.'
Elizabeth's father and mother held a small farm that had to be worked for the family's livelihood. There were six children to support so her parents worked fulltime at other jobs too. 'This working from dawn to dusk, it has stayed with me. And some people say, "Why do you work so hard?" But that's part of me. That's what I know from my family and my family home.'
Alongside a rigorous work ethic, Elizabeth says it is important for women on a settlement journey to find the right support network, whether it is through an organisation or friends, and to gain the confidence to not sell themselves short. 'We're not always comfortable saying how great we are, but in this society we need to sometimes,' she says.
Luz Restrepo arrived here from Colombia in 2010 seeking political asylum. She was a doctor and a communication expert in her country of origin. In an echo of Elizabeth and Cuc's experiences, she arrived here with two suitcases, scant English, very little money, and no Australian connections. She says she felt like a nobody; that she was frightened, isolated, disempowered. But she soon discovered that she was not alone. In 2011, with a group of 25 women experiencing similar challenges, she began to make and sell crafts around Melbourne. In 2013 she founded SisterWorks, a social enterprise that exists to help women migrants, asylum seekers and refugees become financially independent and happily settled in Australia. With a retail space and workshop in Richmond, and plans to expand to South Yarra and Shepparton, Luz is now the CEO of SisterWorks.
Luz is grateful she found the ASRC on arrival. She calls it her 'second home'. It provided her opportunity and connection to a new community of women at a time when she needed it most. Today, she is a staunch advocate for the power of women working together. Or as she puts it, 'The power of women changing the world.' She also lives by the down-to-earth maxim that work empowers women. As she says, 'When we have the money – when we produce our own money – we have the power.'
'The future is not around how our children are going to do best in this country; it is how we – the mums – are going to do the best in this country for us, for our families, for our future children, for you. To give you back for all the opportunities that you have been giving us,' Luz says.
With these three dynamic women standing tall at the ASRC on International Women's Day, it was hard not to feel that Australia has been repaid many times over for any initial opportunities afforded to Cuc, Elizabeth and Luz. Their experiences are just three of many. From a little red suitcase, big things grow.
---
Join our community today to stay up to date with good news stories, and hear all the latest news from the Asylum Seeker Resource Centre.
Leave a reply →