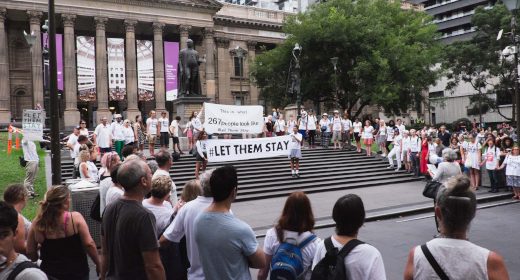 The next wave of around 90 people seeking asylum living in our communities are being called for appointments by the Minister to quickly be put on Bridging E Visas and cut off from income support.
This group includes families with dependents such as children and elderly parents. Some are currently in community detention, receiving 60% of Centrelink equivalent for a family or single person to live on.
A first group were put on this visa class in September 2017 and didn't inlcude families or children. They were evicted from their accommodation and given work rights without a safety net.
These are the 400 men, women and children evacuated from the Australian Government's offshore detention camps for critical reasons. Some women were pregnant. Other men, women and children were evacuated because they were seriously unwell or injured in violent attacks. A high court injunction lets them stay in Australia.
They cannot apply for protection in Australia and must not return to offshore detention because it is not safe. Many have complex medical needs.
Families will be put on a Bridging E Visa and given six weeks to leave their accommodation, facing imminent homelessness. Couples without children will have three weeks.
Director of Advocacy and Campaigns, Jana Favero said: "This is part of a larger trend of the Turnbull government removing a safety net, increasing vulnerability and forced destitution for people seeking asylum."
"The particular circumstances of this group make them some of the most vulnerable people we have seen. Many have complex health conditions."
"Families with children under 12 will be affected. There is often only one person able to work because they must care for dependents. The government expects this person to support a whole family without help."
"People have not had any work or study rights and have waited years with no resolution. Now they are told they have to find work with no safety net to find a job to support a whole family."
"We expect to see some of the 29 people affected in Victoria at our doors for help to meet basic needs such as food and rent."
'If the Minister wants people to find work to support themselves and their families, then this is the wrong way to go about it. They cannot find work if they are homeless".
"In ASRC's experience, our employment program can successfully place people in work only when they have basic support to keep a roof over their heads," Jana said.
Leave a reply →