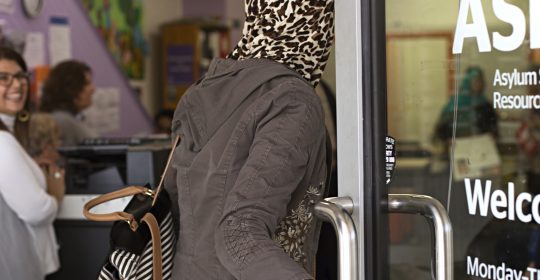 Since mid 2017, we have entered a new phase.
Refugee status decisions are impacting the lives of the 24,500 people who are undergoing the unfair 'fast track' process. At the same time, around 12,500 people are likely to lose all income support.
Last year, the Government set a sudden deadline of 1 October for the largest cohort of people to submit their protection application. Thanks to the extraordinary work of community and pro-bono legal services including the ASRC, more than 30,000 people were able to submit their application by the deadline.
The Department of Home Affairs (DHA) is now working through these applications and around half have received their initial decision; 73% have been granted a temporary visa and 27% have received a first refusal.
Projecting forward, the 27% of people who were refused in the first stage of the refugee process equates to around 6600 people, who will face several years waiting to appeal.
These 6600 people will at some stage, lose income support (89% of the Newstart allowance or $247 a week) and may lose the right to work. The product is forced destitution for those who will be in limbo while waiting for their right to appeal.
This is an unfolding humanitarian disaster and people seeking asylum, including children, will need significant emergency support for basic needs like food, healthcare and housing.
But there is a further issue.
The Government is now also drastically reducing income support for a cohort of 12,500 people seeking asylum who were previously eligible to receive a basic living allowance, but under new strict eligibility criteria, this may be taken away while waiting for the result of their refugee application.
Government has long recognised that people seeking asylum need support to survive while their claims for protection are being processed. They may not be allowed to work, may be unable to work, and are not entitled to the social security payments available to others.
This support had been provided through the Status Resolution Support Service (SRSS) program. It provides a basic living allowance (around $247 per week), casework support and access to torture and trauma counselling. It was funded by the DHA and delivered by contracted service providers including Red Cross and Life Without Barriers.
Several recent changes by the Government in August 2017, restricts access to a basic living allowance.
No longer eligible are:
People who are studying full-time
People who have sent money home to family or friends – as little as $1000, even if earned through work
People who came to Australia on other types of visas (eg. student or partner visa) and then sought asylum
Soon to become ineligible by June:
Single adult males who have work rights (many only recently granted) who have not been assessed as vulnerable through a Department assessment. The notice period is just 7-10 days.
From June, this process will begin to be applied to families, including single parents with school-age children
People who have transferred any money to an account in Australia that is not in their name (even though there was no previous prohibition on this)
ASRC Director of Advocacy and Campaigns, Jana Favero said the government's withdrawal of support for people seeking asylum was counter-productive.
"The impact of the government cuts to income support is very real. People won't be able to afford rent or to feed themselves and we are seeing this at our doors more and more each week," she said. "People studying English will be forced to stop. Parents training to get a job to support their family will be forced to stop."
Favero said education providers were coming to the centre asking what they could do to keep enrolled students who were leaving courses.
"It's chaotic and confusing. The government is actively stopping people from contributing," she said.
The Government's series of punitive policies that rob vulnerable people from a safety is threatening the very ability for people, including children, to survive. 
In Victoria, the Asylum Seeker Resource Centre (ARC) is among very few supports for people without SRSS. Currently, the centre supports over 4600 people and families through a holistic humanitarian services model. However programs are stretched and unable to cope with increasing demand.
A donation to the ASRC's Winter Appeal supports an independent voice for refugees and people seeking asylum, as the government rips support away from thousands. It also funds vital humanitarian services that provide a lifeline to the thousands at risk of destitution. 
Every person and child has the right to food, safe housing and healthcare. 
Leave a reply →