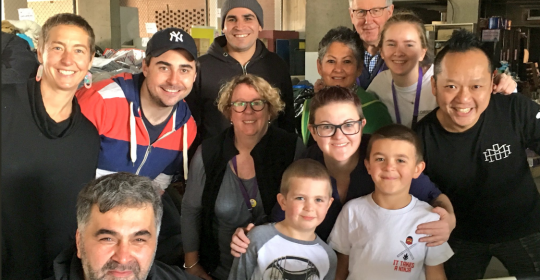 By Kon Karapanagiotidis
When it comes to how we respond to the mistreatment of people seeking asylum by the Turnbull Government, despair is not a strategy. This is what I keep telling people. Hope is. Guilt and shame are not a solution or a way forward. Love and community is.
It's what I was banking on last Sunday when I asked the Melbourne community to turn up in the morning to the back garage at the Asylum Seeker Resource Centre (ASRC) to bring food, blankets and winter coats. We were desperate.
Already at breaking point as an organisation caring for nearly 5,000 people seeking asylum, things are about to somehow get even worse. Much worse. Peter Dutton has directed his staff to make more refugees homeless and hungry. Starting in late June thousands will be cut off from income support. By Christmas it will be up to 12,000 people nationally, including pregnant women, families and single parents. People seeking asylum will become the only group in all of Australia denied access to an income safety net.
So when I turned up at 7:30am on a typical five-degree bitter Melbourne morning I needed to believe the community would rally behind us. Without them I had no idea what we would do next.
But even I couldn't believe what came next …
Over the next five hours 2,000 people from across Victoria came bearing food, blankets and coats. One woman even drove 1,253km from Port Macquarie just to deliver a car load of food. She needed to know she was part of a movement rather than feeling alone, helpless and despairing at the toxic refugee policies of our government.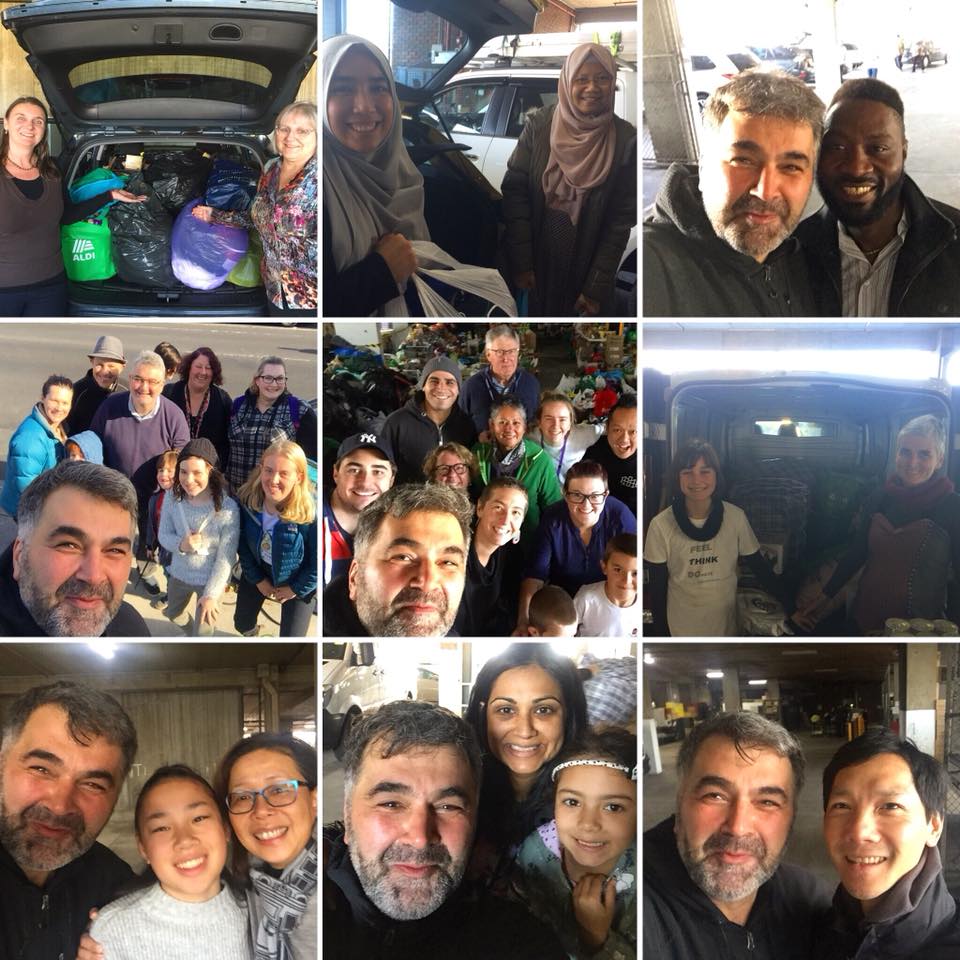 A nonstop flow of humanity at its finest filled our car park and the one next to it too for five hours straight. As far as the eye could see. Whole communities came from regional and rural towns, some with three generations, showing that compassion is deep in the bones. People came from as far as Daylesford, Castlemaine, the Macedon Ranges, Ballarat and Lara with vans and utes heaving with tins of food and blankets. There were hundreds of families; mums and bubs with as many blankets and coats as they could stack on top of prams; former refugees to former AFL champion footballers; and nurses straight from their nightshifts. All came bearing gifts for refugees.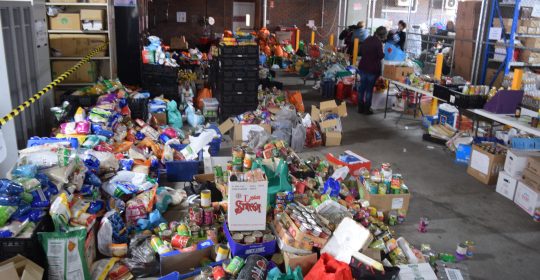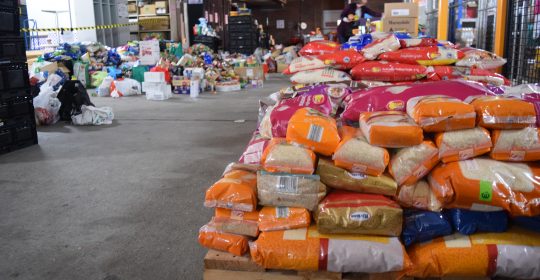 When I asked Eilen what brought her to the ASRC with her baby boy Oliver she responded with an air of defiance, 'I want him to know this is who we are: we are people who care about others.' Amanda who arrived with her six-year-old daughter Bethany said the same: 'I want her to see the importance of compassion.'
Two ESL teachers stood before me beaming with pride and explained how they had told the Hazara refugee women they were teaching about the crisis we faced. To their astonishment the next day the women, barely making ends meet themselves, turned up bearing bags of food. Augustine, a refugee helped a decade ago by the ASRC, approached me with a huge bag of food. He told me, 'I need to pay it forward.' Then there was Tuan who now runs a successful vegan café. He came with a boot load of food before opening his café because he told me he knows firsthand what it's like to be a refugee – he spent years in a refugee camp – and he needed to help those now facing the struggles he once did.
Kirra decided to spend her birthday bringing in bags of food she had traded in place of gifts from her family and friends. The crowd thanked her with a spontaneous and rousing rendition of Happy Birthday To You! That morning Zara, Nieve, Kyan and Alex (none older than six years old) baked Middle Eastern shortbread biscuits at home, which helped feed the mass of volunteers and donors. Their mum told me it was how she had finally found a way for her children to bond together.
Caitlin and Ishka came from Castlemaine and told me how the entire community had rallied to help. The evidence was in the hundreds of coats and blankets they had crammed into their white van. Lois from Lara was crying and asked me for a hug. This happened all morning as people, surrounded by a sea of other caring people, found themselves overwhelmed by this moment of catharsis and hope.
It was about families too: I loved seeing so many mothers and daughters like Manika and Indira who had organised a collection at their local organic store. Then there was Marnie with her boys Asher and Colin who gave up their pocket money for a week to buy spices for refugees. And Kate showed me all the handmade blankets knitted by her family too. Young Eden had come with his family and friends from Daylesford, forming a convoy of cars filled with love and hope. Liz and Cathy from Shepparton told me how their community had heeded the call to help. While Tris and Hanan from the Indonesian Muslim Community of Victoria brought not only a van full of food but a cheque for $2,000. Some of their community even came down from Sydney just to help on the day.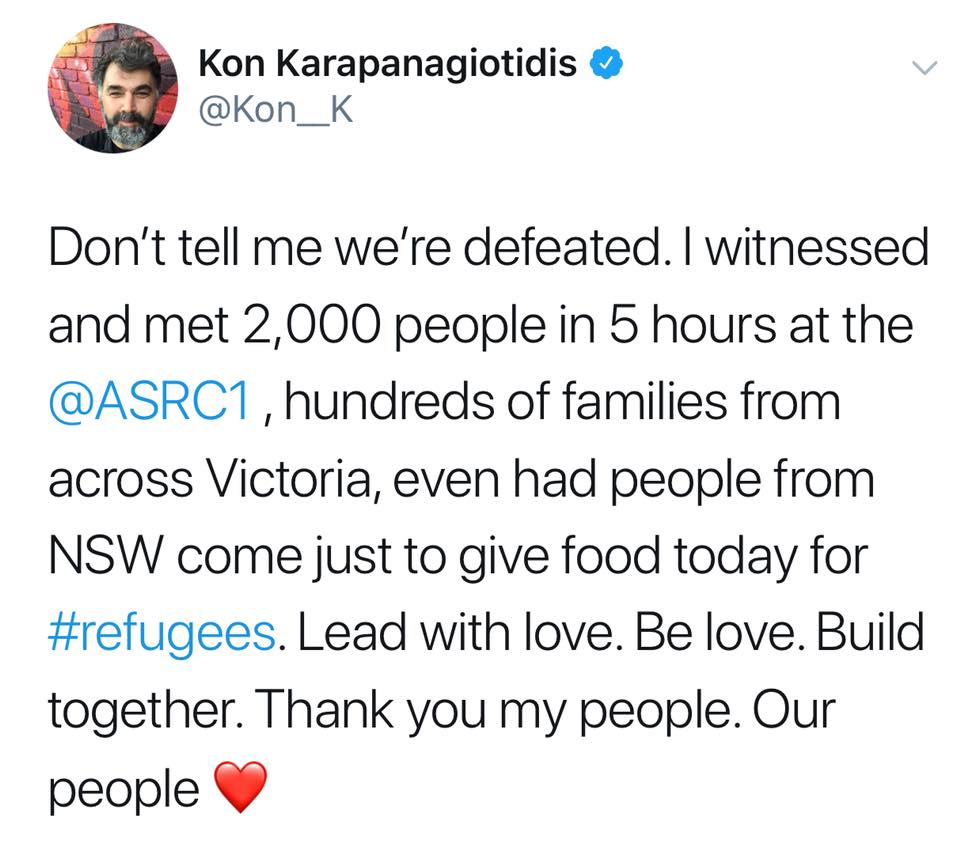 By day's end we had received approximately $150,000 worth of food and enough coats and blankets to keep every person we are assisting warm this Melbourne winter. While the demand on our Foodbank is so immense that this food will only last for two months (if we are lucky), it is life-saving for the families that will depend on it.
Thanks to our community of hope and compassion. You were incredible.
---
The ASRC is fearlessly independent and is possible only thanks to the generous and ongoing support of our community.
Leave a reply →