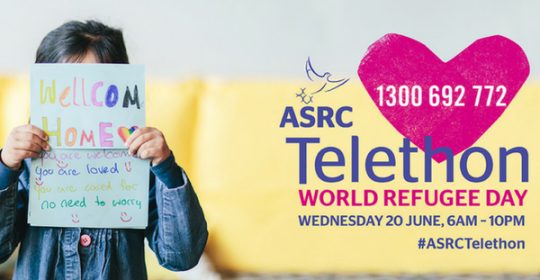 At a time of intense stress for people seeking asylum, there is no better reason to come together and celebrate and support our community than World Refugee Day. To mark the occasion we are excited to host our annual ASRC Telethon – a huge day filled with celebration, shared stories and the gathering of community to raise money for the many incredible programs and people supported by the ASRC.
Now in it's third year, the ASRC's Telethon is a chance for people from around the nation to champion a more compassionate Australia, while supporting and empowering refugees and people seeking asylum.
In 2017, our community came together to raise an incredible $660,000 in just one day – double the amount raised in the first year of the event. Thanks to this amazing support the ASRC could provide food, housing, medical care, employment support, legal aid and advocacy to almost 5,000 people – more than ever before. And this year is going to be bigger and better than ever!
We have an incredible team of over 40 international and local ambassadors, celebrities and personalities joinging us on the day, and for returning supporters including newly appointed ambassador Dr Susan Carland, the opportunity to come back for another year is too good to refuse.
"The 2017 Telethon was such a wonderful experience! The variety of people who called was remarkable, including an elderly nun who rang to donate. When the situation for refugees and asylum seekers in Australia can seem so politicised and cruel, spending a day hearing from everyday Australians who just wanted to help and show love was an honour. It was incredibly uplifting.
"When the situation can so often feel hopeless, this – donating via the Telethon – is a concrete way to make a meaningful difference."
In addition to the activities on the phone, local radio station RRR Radio will be hosting a breakfast broadcast at the ASRC from 6am, and children's television network ABC ME filming a segment onsite with some of the inspiring kids that have held fundraisers to support people seeking asylum.
This year's Telethon is more important than ever
For ASRC CEO and Founder Kon Karapanagiotidis this year's Telethon is more important than ever. With more than 12,000 people seeking asylum at risk of destitution and homelessness following federal government cuts to income support (status resolution support services or SRSS payments) that are now underway, the ASRC is facing unprecedented demand.
"More and more refugees and people seeking asylum are facing winter without a roof over their heads," Mr Karapanagiotidis said. "This is the largest crisis facing this vulnerable community in more than a decade. In Victoria, close to 6000 people are estimated to be at risk of destitution by the end of the year. That includes families with children," he said.
"As an independent human rights organisation, support from our community is the only way we can keep our more than 40+ programs going. If we fail to raise the funds needed, many of the people in crisis will have nowhere else to turn to for help," explained Kon.
By donating to the ASRC Telethon, individuals empower refugees and people seeking asylum to live independently and rebuild their lives in safety.
How to get involved.
Keep an eye on out for live auction – get the chance to buy amazing one-off items with all proceeds going to the ASRC.
Follow us on Facebook, Instagram @ASRC1 and Twitter @ASRC1 and watch the day unfold with interviews with  celebrities, live performances, stories from people seeking asylum and sneaky behind the scenes action with  live tally updates.
Fundraise for World Refugee Day – every year we have people across the country hold local fundraisers at schools, workplaces and their homes
Head to the the official ASRC Telethon page here to check out the list of celebrities, and be the first to know when the live auction is up and running.
Want to donate now?
Pitch in to our Winter Appeal and support the ASRC in providing essential humanitarian services including food, housing, medical care, legal aid, advocacy and empowerment programs.
Leave a reply →