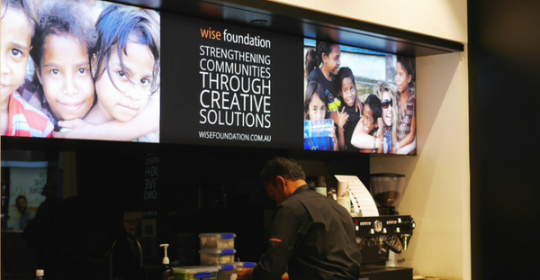 Speaking about the Employer Partnerships Program (EPP) at the Asylum Seeker Resource Centre (ASRC), Employment Program Manager Camille Walles says, 'The skills profile of our members is so diverse. We see everyone from shepherds to IVF specialists. Literally.'
The EPP sits within a suite of initiatives at the ASRC that offer employment pathways to eligible people seeking asylum and refugees on temporary protection visas. Camille and Employer Partnerships Coordinator Melanie Pitcher work closely with employers to motivate them to hire through the ASRC.
Last financial year the program partnered with 99 employers to secure 235 paid roles. In the first quarter of this year Melanie estimates that there are already more than 60 plus active partnerships on the books. The list of current partners includes Aesop, ANZ, Career Seekers, Chobani, Cross Yarra Partnership, Seasol, Rylock, Talent Rise, Free to Feed, Consolidated Cleaning, West Gate Tunnel Project and the WISE Foundation, and is testament to the program's success to date.
To forge a partnership the EPP team must assess the needs of prospective employers so they can properly match people with the requisite knowledge, skills and confidence to succeed in the job. The program also works closely with ASRC members to prepare them for roles, and provide on-boarding and post-placement support once they start.
Melanie and Camille identify two key drivers for a potential employer: an alignment with the social justice values of the ASRC and/or the straightforward work needs of the organisation. This second factor is especially true for employers in current high-demand or skills-shortage fields like construction, healthcare and aged care, or any of the STEM areas of science, technology, engineering and mathematics. Increasingly, too, larger organisations have introduced employment diversity programs; whilst those working under state government contracts are required to meet social impact recruitment targets for groups like the long-term unemployed, Indigenous Australians, young people, and newly arrived refugees and people seeking asylum.
One such contract is The Cross Yarra Partnership (CYP), which is responsible for building the new metro tunnel to enhance Melbourne's existing rail network. CYP is a consortium comprising Lendlease Engineering, John Holland, Bouygues Construction and Capella Capital. It is anticipated the project will provide employment opportunities in a variety of roles over the next five years, including engineering, site administration, reception, finance, document control, and construction.
Similar large-scale infrastructure project opportunities are offered through the West Gate Tunnel Project. Camille explains;
 'We're part of their official service provider network. Twelve agencies were invited to be part of that; to put forward their best candidates for roles.'
As a Tunnel Project spokesperson says, 'By drawing on the specialist support and advice of the Asylum Seeker Resource Centre's Employer Partnerships team, CPB Contractors and John Holland can identify opportunities for employment on the West Gate Tunnel Project for people who face significant barriers to entering the construction industry.'
At the other end of the scale, the EPP is open to working with smaller operators, such as independent cafes and social enterprises. Melanie says about the social enterprise space, 'We're trying to establish a network that's going to help people set up social enterprises, which, in turn, will give our members supportive places to work.' In the past, too, the skin, body and haircare specialist Aesop has employed members in retail roles on a casual basis at peak times. It has also run a retail training program that resulted in job placement with other retailers for some members. 'Both members and Aesop reported back to us that it was a great success. So we will explore similar initiatives again,' she says.
The EPP was established a couple of years after the ASRC opened its doors, in recognition of the fact that many members were wanting to move beyond welfare and dependence on ASRC services for material aid, housing support and food.
'Whilst they appreciated those services there was a real internal driver for people to find work,' Camille says.
However, it was quickly recognised that people seeking asylum were falling between the cracks of the existing employment agencies. 'Mainstream services did not include people seeking asylum in their eligibility,' she explains. In a sense then, the ASRC has, by necessity, become its own agency, albeit working with other partners across the refugee and recruitment sectors. Part of the task over the years has been to work as advocates for its members, educating employers on the work rights and skills of refugees and people seeking asylum.
Fast forward to today, where arguably there is more understanding of the employment needs of this cohort, and yet the work barriers continue to be many and varied. Factors like cultural difference, English as an additional language, recognition of home country qualifications, access to ongoing work rights, trauma and mental health issues still come into play. On the one hand, the granting of temporary protection and Safe Haven Enterprise visas open up potential career opportunities. On the other hand, the loss of Status Resolution Support Services (SRSS) payments is catapulting people back into the search for survival jobs.
These conflicting scenarios place the EPP's focus going forward under pressure. The program recognises the urgency of sourcing survival work, but also needs to find time to cultivate potential strategic opportunities for members with professional backgrounds, like promoting the diversity programs of large corporations. As Camille says, 'We're trying to do both simultaneously – that's the challenge.'
---
Join us today and stay up to date with all the news, successes, events and stories from the ASRC.
Leave a reply →