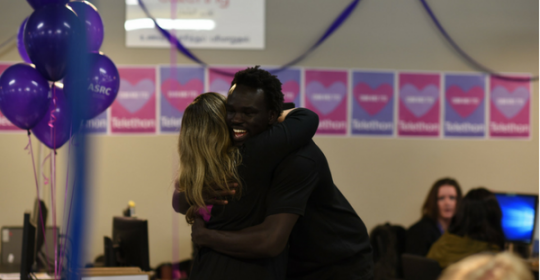 Kicking off bright and early, staff and volunteers started trickling in to the Asylum Seeker Resource Centre (ASRC) Footscray well before the sun rose to welcome the RRR Radio Breakfasters crew who would be broadcasting from the ASRC Telethon on World Refugee Day.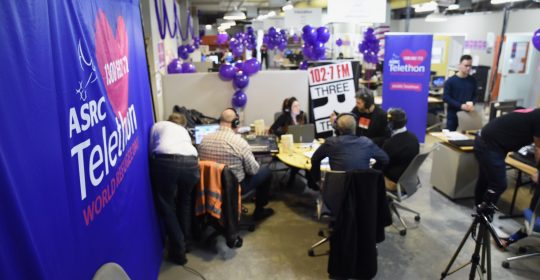 That very morning, were delighted to announce that Leila Gurruwiwi, proud Yolngu woman from Elcho Island and member of the Marngrook Footy Show was to be the ASRC's newest Ambassador. The morning rounded off with a spoken word performance by Abe Nouk and songs by emerging refugee artist, Gordon and his band Colourful Collective.
At 9am, our partners Maurice Blackburn Lawyers announced they'd match all donations between 9am to 10am up to $20,000. Incredibly, donations surged and by 11am we'd raised over $150,000!
Around that time, the incredible Gillian Triggs, President of the Australian Human Rights Commission from 2012-2017 descended on the ASRC. And Aussie music legend, Mark Seymour from Hunters and Collectors offered up a song and his guitar for our first online auction fundraiser!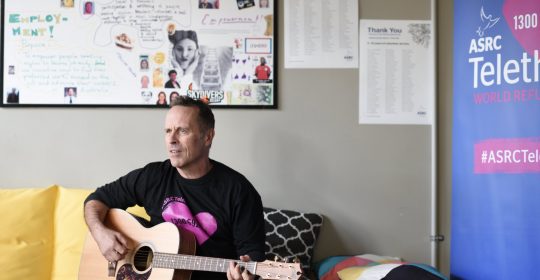 Everywhere you looked there was a little bit of magic happening, with some truly stand out moments.
We were blessed by the support of our Patron Tamie Fraser, humanitarian and widow of Prime Minister Malcolm Fraser, and her grand-daughter Hester Fraser who spoke to us about what being part of this special day meant to them.
By now, the phone room was buzzing.  Across the day, the ASRC welcomed an array of Australian personalities, actors and musicians into the phone rooms. Rockwiz host, Brian Nankervis brought his infectious smile and energy, notorious Catholic Priest Father Bob enlightened callers with his pearls of wisdom, while Courtney Barnett and the Milk! Records crew serenaded us with a song.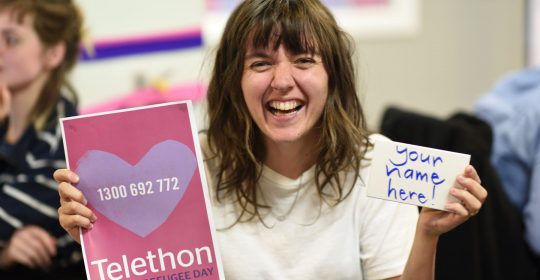 What's more, The Smith Street Band belted songs, author Arnold Zable delivered a live reading, we doubled down with laughter with Christos Tsiolkas, and so many others who gave their time to raise funds for the ASRC.
Another hour of power at 5pm upped the ante with LUSH's $20,000 matched funds, which generously bumped up our tally in just 60 minutes.
Later in the evening, we were regaled by TV presenter Shaun Micaellef who took over ASRC's Facebook channel to accost his fellow phone champions while comedian Lehmo took audiences on a personal tour of the Telethon. Comedian and human rights lawyer, Corrine Grant took to the phones along with so many other personalities.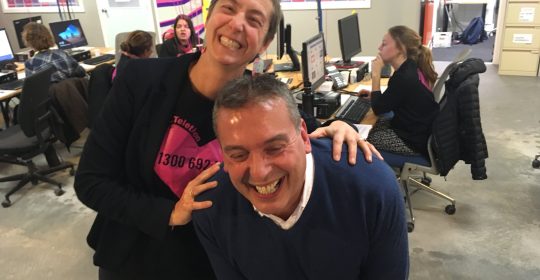 By this time, there was twenty minutes left on the clock. But still, after fifteen hours, the atmosphere was electric.
We were all striving to raise another $30,000. It seemed like a stretch – but there can be no underestimating the power and love of the Australian community.
10pm arrived and as we looked over to the tally, it glowed an incredible $816,490. We'd beat our target by over $150,000! The whole room exploded into cheers and tears, as a long and fabulous day reached a triumphant climax.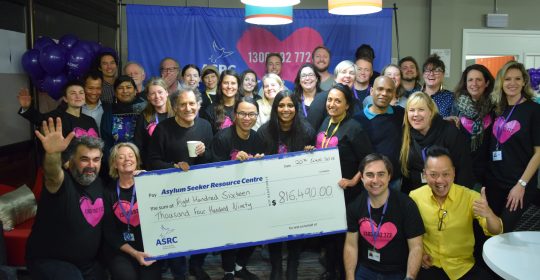 Across the phones, our website and donations via SMS, a phenomenal 8744 people generously donated to support and empower refugees and people seeing asylum!
While the ASRC was packed with an enthusiastic team, we cannot discount the collective efforts of fifteen fundraiser events held across the country by supporters in the community.
---
Did you miss out on the action?
Head to our Facebook page here to see action from the day
Want to stay in the know? Join us today and stay up to date with all of our events, news and feel good stories.
Leave a reply →