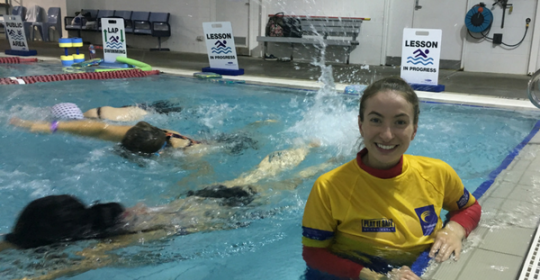 For the majority of Australian's, swimming is a skill learned in primary schools right across the nation. The water is not something to be feared, and swimming pools and beaches are welcoming places we go to relax.
For many people seeking asylum, swimming is a complete unknown, and for women in particular it can be an experience heavily restricted by cultural and religious boundaries.
Not anymore.
Starting in March 2018 an initiative of the ASRC Women's Empowerment Program in partnership with MiCare New Hope Foundation, The Hazara Women's Group, and with support from Brimbank City Council, has given women seeking asylum the opportunity to learn how to swim in a safe, female only, supported environment.
Far from simply the freedom to exercise, the swimming lessons have been instrumental in helping migrant women work through trauma and create connections with other women in the community.
"Women from refugee and migrant backgrounds are often socially isolated due to language barriers and cultural constraints," said ASRC Community Engagement & Development Program Coordinator, Kirsty Sword Gusmao.
"They are often discouraged from participating in sporting or other recreation activities such as swimming for religious or cultural reasons, particularly where modesty cannot be guaranteed. The Women's Only Swimming Program provides women with a safe physical space to exercise and to gain confidence in the water.
"The goal of this program is to improve the physical, mental and social wellbeing of a group of culturally and linguistically diverse and vulnerable women and their families.
"The people our organisations work with are among the most vulnerable in the community. Many are people seeking asylum who are living with extreme stress, associated with their visa determination process and limited or no income support."
The impact of the program is significant, often helping multiple generations within the same family come together to support each other and relax.
Iranian refugees Jasmine* and her mother, Reza*, endured a traumatic journey to Australia by boat after they fled intolerable conditions as a result of the war. Jasmine, who has attended several of the swimming events, urged her mother to come with her in the hope the program would help alleviate the anxiety and depression Reza continues to suffer. Jasmine, who is studying nursing, said she wanted her mum to feel more calm and relaxed.
"I have one younger brother. He couldn't come to Australia. That is difficult for us. Always my mum is crying, always she is sad. Sometimes when my mum is okay, we feel okay, but when she has anxiety and depression, it is difficult for me and my dad as well," Jasmine says.
For Jasmine, taking part in the swimming program made her feel more relaxed and she also made a new friend.
Iranian migrant Daria*, a counsellor and psychologist, was delighted to hear about the women's only swimming program – she had been searching for such a program since arriving in Australia nine years ago with her husband and teenage daughter.
She believes swimming is a great way for migrant, refugee and asylum seeker women to have some much-needed time for themselves and not dwell on the stresses of everyday life. The concentration required by swimming, she says, can momentarily block stressful and negative thoughts.
She urges other women to try the classes.
"I (would) tell them that this is your time, use it. Some time for you, to appreciate yourself, to not think about a lot of challenges in your life. To have some relaxation time. It is really relaxing."
Daria says she understands the challenges new migrants, refugees and asylum seekers face in Australia – whether it is housing or dealing with past trauma – but urges women to try the swimming program as one way to cope. "But water help you," she says. "(It can) clean your soul."
Sunshine Leisure Centre swimming instructor Cassie Attard encouraged women to join in the program. "We all have fun, it's a bit of a laugh. We cater to all levels of swimming and we are very welcoming."
The Women's Only Swimming program first ran as a pilot from March to September 2017. The current program, supported by a $5,000 grant from Brimbank Council, is operating until November 2018.
The ASRC Women's Empowerment Program is made possible through the ongoing support of the ASRC community. When you donate to the ASRC you stand with refugees and people seeking asylum to create a better future, full of opportunity.
Pitch in to the ASRC Winter Appeal and be part of the community that provides essential humanitarian services, and a future of hope.
Donate now
*Names have been changed to protect women's identities.
Leave a reply →