View 7.30 Report's coverage on whistle blowers from Nauru who've exposed the extent of children in medical crisis.
For the first time since 2016, whistleblower health professionals have spoken out on escalating crisis on Nauru. The ASRC has information that exposes the overall scale and magnitude of the child trauma crisis on Nauru.
Sources report that doctors have requested emergency Overseas Medical Referrals (OMRs) for 50 children exhibiting life threatening symptoms including repeated suicidality and traumatic withdrawal syndrome.
Traumatic Withdrawal Syndrome, also known as Resignation Syndrome, is a state of severe social withdrawal in which children stop talking, drinking and eating, leading to major physical problems.
"All children and their parents must be evacuated to Australia before lives are lost."
Some children become bedridden and comatose with life threatening dehydration and malnutrition.
It is caused by severe trauma that is left untreated for long periods of time, and is a response to prolonged distress caused by the length of time the children have been held on Nauru.
Whistleblowers report that some children experiencing symptoms have been watched closely to find reasons to deny that they are in a life threatening condition so as to argue against medical transfers when legal intervention occurs.
The ASRC and legal partners, primarily the National Justice Project, have secured the medical transfer of 23 individual children, either via interlocutory injunction in Australian Federal courts, or through other legal intervention, to save their lives.
But with a reported 50 overseas medical requests on Nauru for critically ill children, lawyers and case workers are overwhelmed in trying to legally intervene and support the children and the parents over the phone.
Parents are being left to treat children in a comatose state – forcing food and water into limp bodies. Their children are at great risk of dying.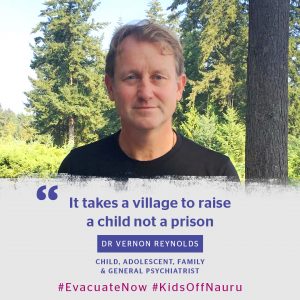 Child Psychiatrist and whistleblower, Dr Vernon Reynolds said: "I treated severely unwell children that I repeatedly recommended for transfer to a specialist hospital. Instead they were left for months to deteriorate further. Such neglect cannot be justified and is morally and ethically wrong."
Detention Advocacy Manager at Asylum Seeker Resource Centre, Natasha Blucher said: "All children and their parents must be evacuated to Australia before lives are lost."
"We have been inundated with desperate parents calling us, asking for help as their kids are deteriorating."
"Parents are telling us that the majority of children on Nauru are showing symptoms, either beginning to withdraw, self-harming, talking about death, or in the acute stages of Traumatic Withdrawal Syndrome, or attempting suicide. It's heartbreaking to know the Government is intentionally risking the lives of these kids," Natasha said.
National Justice Project's George Newhouse said: "Lawyers and medical professionals should not be forced to go to court to secure basic health care for children, nor to refer to the findings of the Qld State Coroner to argue against the Department of Home Affairs block of medical transfers to Australia."
Professor Louise Newman, former Government advisor and psychiatrist said, 'Traumatic Withdrawal Syndrome is found in children exposed to ongoing trauma where they feel hopeless and helpless resulting in a giving up on engagement with the world."
"There is an urgent need for treatment with a medical and mental health team in a high level hospital facility with capacity for intensive care, re-feeding and support for psychological recovery," Professor Newman said.
The ASRC renews our call on the Morrison Government to urgently evacuate all children and their families off Nauru for emergency medical care in Australia.
Leave a reply →