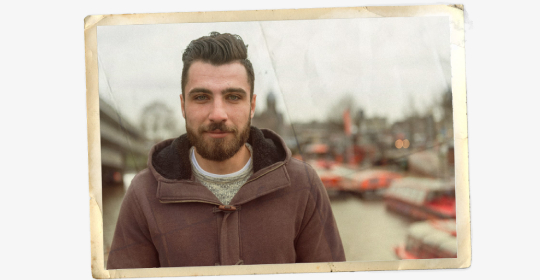 Sami* was beaten by his own father. Beaten because he is gay.
To his family, Sami's sexuality brought shame and dishonour to their name.
In Sami's home country, homosexuality is considered a crime and is punishable by prison sentences and even corporal punishment.
For years he endured beatings and emotional abuse.
When his parents tried to force him to marry a woman from his community, Sami refused. Things escalated. Sami's protests against the marriage were met with extreme violence, not just from his father but also from his extended family.
Leaving his family and his community was Sami's only option.
He fled, but he had nowhere to turn.
For a while Sami tried to start a new life in a different part of the country, but the fear and anxiety of being 'found out' was too much.
Isolated and alone, Sami came to Australia by plane and applied for a protection visa without any legal help. He was nervous about putting the real reason why he fled his home country down because he did not know the laws in Australia and he did not want to be jailed here because of his sexuality. He was also not sure how his information would be shared or where it would go. He was afraid of anyone finding out.
The Department of Home Affairs rejected his application for protection.
Fortunately, Sami came to the ASRC seeking legal advice about his protection visa application. Our Human Rights Law Program Gender Clinic is Australia's only specialised service for people seeking asylum who are facing gender-based persecution (women, Sexual Orientation and Gender Identity).
Our lawyers took on Sami's case and they fought to get him a second legal chance by submitting paperwork to have the Department's rejection decision reviewed at the Administrative Appeals Tribunal.
For the first time, Sami was able to explain why he feared returning to his home country.
For the first time he had lawyers on his side.
For the first time, Sami had a chance at safety and freedom.
For the first time in a long time, Sami was hopeful.
Our lawyers provided oral submissions at the hearing and submitted post-hearing information outlining evidence that supported Sami's claims.
With evidence supplied and a strong legal defence, we were able to overturn the department's decision.
Standing with Sami, we fought against injustice and we won.
At the Asylum Seeker Resource Centre, our Human Rights Law Program (HRLP) provides free, expert legal advice and representation. Last year, our legal triage service responded to 1,464 clients. Your support can ensure that we are able to give people like Sami the best possible chance against injustice.
People seeking asylum have endured enough and we believe they must be given the same rights to fairness, freedom and safety that we all expect.
Enough is enough. Join the fight against injustice by donating now.
Leave a reply →