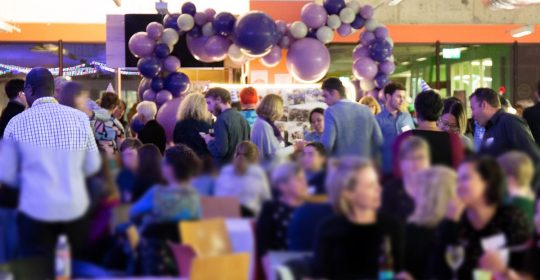 "I wish I could tell you, a hundred times a day. How much we appreciate, all you do and say..", the voices were out of time and sometimes off key, but the words were sung with passion and conviction. The staff choir are in no way established singers but writing and performing an original song was one of many ways they were able to say thank you and demonstrate their gratitude to over 400 Volunteers that recently attended the annual Volunteer Party at the Asylum Seeker Resource Centre. With Comedian Tom Ballard as MC and a special performance from singer songwriter Little Foot (Celine Yap), the room was filled with laughter and tears, celebrating the power of people coming together in the name of humanity.
This year, the 1200 strong team of ASRC Volunteers – including 72 Members – gave an astounding 317,000 hours of their time to the cause. In 2018, their generosity contributed to the following:
– Over 7,500 hours of free English lessons
– Contributed to nearly 5,000 health clinic appointments
– Cooked 60,000 hot meals
– Provided 700 people per week with Foodbank services
– Provided 2,500 GAP appointments
– Supported nearly 250 people into job placements in the Employment program
– Over 3,500 legal appointments offered by a team of over 200 volunteers
– Helped to educate nearly 8,000 students through the schools program
– Supported an incredible 116 women in the Women's Empowerment program
– Assisted 210 people in urgent need of support via the Detention Advocacy Program
Peter Callender, Volunteer Engagement Manager and organiser of the event was delighted with the turnout, "we simply could not operate without our incredible Volunteers, they are the lifeblood of the organisation. The passion and commitment they dedicate each day to the ASRC, our Members and the cause is overwhelming. I am inspired by their generosity and spirit".
321 Volunteers have been dedicating their time to the ASRC for over 3 years, including 10 people who have been volunteering for over 15 years. Gayle, who has been volunteering with the ASRC since 2013 had a wonderful time celebrating the years' achievements, "It was a terrific evening. There's always lots of fun had by all at Volunteer functions." Conan, a Paralegal volunteering with the ASRC's Human Rights Law Program came to the party after his first shift that week, "I didn't really know anyone but that wasn't an issue as everyone is so friendly and welcoming. I had fun and it was really great to celebrate with people of all ages from different backgrounds coming together to support and empower people seeking asylum."
CEO and founder Kon Karapanagiotidis was also 'head chef' for the evening, leading a team of ASRC staff members who cooked 51 platters of food for the party, accompanied by beverages generously donated by our partners at Jamsheed Wine and Mountain Goat beer.
With full bellies and warm hearts, Kon spoke of his hope for a kinder and compassionate Australia on the horizon and thanked the room – the lifeblood of the ASRC:
"People keep saying to me, this place shouldn't work… I just have to look around this room to see why it does….You serve our members, you serve hope, you serve our community and we think that's pretty special and we just wanted to say a huge thank you for being the beautiful and kind people that you are."
The laughter and fun continued into the night, moving to the dance floor, and of course, no celebration is complete without karaoke. A wonderful night celebrating a year of tremendous achievement, all thanks to the power of the Volunteers at the ASRC.
If you're interested in becoming a Volunteer at the ASRC, you can make an enquiry or stay in touch by joining us.
Leave a reply →