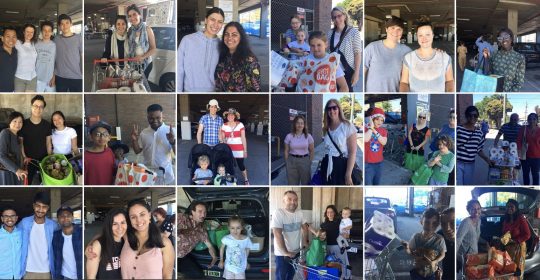 On the 23rd of December with only two days notice, more than 400 families came through the garage doors at our Home of Hope in Footscray to donate more than $50,000 worth of essential food items to our emergency Christmas food drive.
Our Foodbank provides groceries to more than 700 people seeking asylum each week and without the generosity of our incredible and compassionate community this would not always be possible.
We received donations from people all over Victoria, with visitors from as far as Sydney, the Northern Territory and even an Italian couple on holiday who donated what they had when walking by the ASRC. We even had a special visit from Jack (pictured left) who donated the $30 that he had raised from his lemonade stand.
People kept flowing through the doors all day long with car loads of food – humanity was well and truly on show.
We were overwhelmed by the generosity and compassion of the community. To those that came to support us, thank you! Together, we are fighting to make a real difference in the lives of people seeking asylum.
Click here to find out more about our Foodbank program and the incredible difference that it makes to the lives of people seeking asylum. Or click here to join us if you'd like to stay informed about other areas of the ASRC, our stories and our work.
Leave a reply →