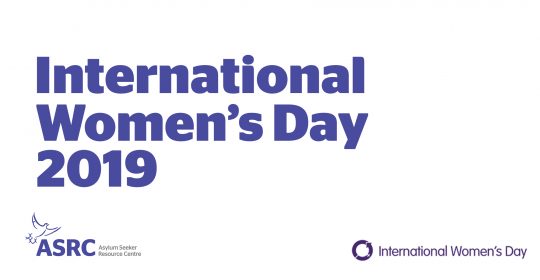 'The story of women's struggle for equality belongs to no single feminist nor to any one organisation but to the collective efforts of all who care about human rights.'
As everyone at the Asylum Seeker Resource Centre (ASRC) prepares to celebrate International Women's Day (IWD) on March 8, these words by feminist, journalist and activist Gloria Steinem are at the forefront of our minds.
The ASRC is conscious of the multiple challenges facing women seeking asylum. Many women seeking asylum have had experiences of being forced to the background, only allowed to be seen and heard through men who lead and make decisions for them. The barriers and challenges that begin in their home country, through restrictions on education and opportunity, can continue here in Australia, through discrimination, trauma and health issues.
The world has witnessed significant change and attitudinal shift in women's equality and emancipation since the first IWD in 1911. But the original aim of IWD – to achieve full gender equality for women – has still not been realised. Women in Australia are still not paid equally, women are still not equally present in business or politics, women are still not given the same educational opportunities, and women are still alarmingly over represented as victims of domestic violence.
The theme for IWD 2019 is #BalanceforBetter, a reminder that everyone has a part to play in building a gender-balanced world – all the time, everywhere. Gender balance is essential for economies and communities to thrive. It is up to us to encourage gender balance in the government, in the media, in boardrooms, in wealth and in opportunity.
The ASRC is excited to celebrate the social, economic, cultural and political achievements of women at our 2019 event – while also marking a call to action for accelerating gender balance. This year we will be joined by inspirational guest speakers Kagi Kowa, the founder of the social enterprise Nubia Designs, and Leading Senior Sergeant Maha Sukkar, the multicultural liaison officer with Victoria Police.
Kagi Kowa came to Australia in 2015, after living most of her young life in a Kenyan refugee camp. Three months after her arrival she began painting and held a successful exhibition a month later. She describes her unique art as African inspired with a touch of tribal and modern themes, using colours reminiscent of the African landscape to represent the feeling of warmth and welcome of her homeland and people. Through her art, Kagi discovered she could use her talent to not only express facets of her culture and tell her story, but also to connect with people and provide a platform to give others opportunities. Kagi does this by hosting art workshops for the wider community through her social enterprise Nubia Designs.
Leading Senior Constable Maha Sukkar is a familiar face in Melbourne's south-east. She was the first Muslim police officer in Victoria to wear a hijab, challenging stereotypes and setting a ground-breaking precedent for police forces around the world. Over her 15-year career, Maha has worked to encourage social cohesion, tear down cross-cultural barriers and promote diversity within the police. She is dedicated to changing people's perspectives, in particular helping the way newly arrived migrant communities perceive the police and how the police think about the communities.
Alongside these guests will be stories from ASRC members and a pop-up shop selling items created by the ASRC's Women's Empowerment Program (WEP).
The WEP provides opportunities to empower and encourage women seeking asylum, helping them overcome the unique challenges affecting them. The program recognises that women seeking asylum have had a range of life experiences and seeks to support each member with her own individual pathway plan. Through skills-based workshops and training, the WEP helps bridge gaps in educational opportunity so members can build new skills, gain new confidence and find employment in Australia. The program also assists members who have been professionals in their home country, but need support to resume or transition their careers in Australia.
In 2018, the first ASRC IWD event provided the platform for women seeking asylum from different countries to celebrate their strength, resilience and cultural diversity. We are privileged and excited to welcome this opportunity for new and current members this IWD on March 8.
Register here to attend this free event.
When: Friday 8 March, 10am-12pm
Where: Asylum Seeker Resource Centre
Level 1, 214 – 218 Nicholson St, Footscray
Leave a reply →