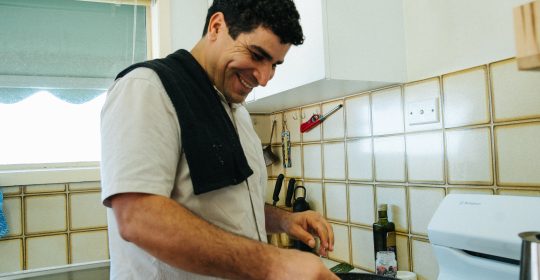 Ahmad stirs tamarind to accompany a plate of smoked fish in the kitchen of his family home as he reflects on the memories that this family recipe evokes, "They represent my story, they represent my identity, they represent my childhood."  Ahmad is from Mesopotamia, one of the oldest civilisations in the world just west of Iran. He came to Australia in 2008, "I fled from Iran to Syria, as did others who like me, were from the persecuted Arab Ahwaz minority group." Ahmad is one of four home cooks who are sharing their family recipes as part of the ASRC's Feast 4 Freedom, a new event where people are encouraged to host feasts that raise funds for people seeking asylum.
"I really love to share my recipes with people because they represent my story, they represent my identity." – Ahmad
Ahmad has shared 3 traditional family recipes for the feast: Tamarind fish with dill rice, eggplant and walnut dip and Mesopotamian date balls, "I have chosen these recipes because they rem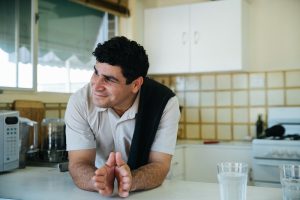 ind me of my home country, we're the world's earliest civilization developed by growing crops and cooking it. My Mum used to catch fish with a small net and cook them for lunch, the eggplant dish is really a side dish because when we eat we lay out many different dishes to eat together as a main meal. Eggplants are plentiful in Ahwaz and cooking over charcoal is most common. I remember working on my uncle's farm as a young boy during the school holidays, harvesting tomatoes, cucumbers, and watermelons. At lunch time my Auntie would visit us and simply pan-fry slices of eggplant and tomato over coals to eat with freshly made flatbread. I wish I could have a magic wand and get that time back."
Uyen, who came to Australia in 1993  from Vietnam, shares her Mum's Pho (noodle soup), spring roll and banana fritter recipes, "In Vietnam, we always cook Pho because we love when people come to the house to eat something. May you have your meal with loveliness, happiness and health."
Salwa and Mohammed's faces light up when they cook, "We are very happy when we cook and we hope you enjoy our traditional Syrian food." They arrived in Australia four years ago after losing everything to the civil war that continues today. "We are happy for you to cook dishes that are special to us. Please share with your family and friends and celebrate the freedom we can have in Australia."
The Feast 4 Freedom is a celebration of the rich flavours that people seeking asylum bring to Australia. The ASRC's Fundraising Event Coordinator, Maria Quigley, says  "No matter where we are from or what language we speak, there is one thing that unites us all: sharing food with family and friends. I hope all our hosts and their guests enjoy the delicious family recipes shared by our four home cooks: Ahmad, Uyen, Salwa & Mohammed." It's easy to take part, register to become a host, choose your cuisine and the ASRC will send you a thank you pack with recipes and a few gifts from your chosen home cook that will help you host your feast. Inviting your guests and raising money is made easy with a personalised Feast 4 Freedom fundraising page.
During the last weekend of March, registered hosts around Australia will be holding their feasts and raising money to empower and support people seeking asylum.
Register now to become a Feast 4 Freedom host, choose your cuisine and start planning your celebration today.
Got some questions about the Feast 4 Freedom? Email Maria at feast4freedom@asrc.org.au or go to the Feast 4 Freedom website for further details.
Leave a reply →