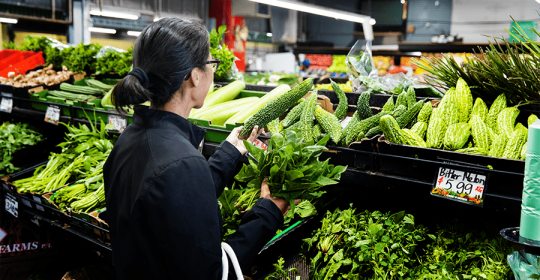 This Easter share the love with more than just chocolate! 
For around $50, a hamper will provide a selection of the most-used items that we are in urgent need of in Foodbank, our free grocery store. Each week, more than 700 people rely on Foodbank for food and household items. As the government continues to deepen its cuts to the SRSS – the Centrelink safety net for people seeking asylum – the need for our support and services grows.
How to donate an Easter Essentials Hamper
Access to good-quality food is critically important for the physical health of people seeking asylum and refugees. Donating is as easy as shopping at Coles Online, which delivers items for free (for orders over $50), straight to our Foodbank shelves:
Log in or sign up to Coles
Select 'Choose a delivery/collection time' on the right hand side of the screen
Select 'Choose another collection location nearby' so you can select the store that delivers donations to the ASRC
Search for 'Deer Park Vic 3023' and from the options choose 'Deer Park Coles Asylum Seeker Resource Centre Donation'
Click on 'Choose a collection time'
Select 'Click & Collect' in the Wednesday 9.00am–11.00am timeslot Choose 'No bags'
Start shopping!
The items we recommend to feed a family this Easter are:
2 x Coles Basmati Rice 5kg – $14.00 each

2 x Coles Tuna Chunks in Olive Oil 185g – $1.60 each

2 x Coles Tuna Chunks in Olive Oil 425g – $3.35 each

2 x Coles Diced Italian Tomatoes 400g – $0.80 each

2 x Coles Chickpeas 400g – $0.75 each

2 x Coles Ultimate 40% Choc Chip Cookies 400g – $3.50 each

2 x Coles BBQ Snack Bites 200g – $1.40 each

2 x Dishwashing liquid 1L – any brand

And an Easter chocolate treat of your choice
Coles Online will collect and deliver all orders to us every Wednesday, for free.
Other ways to help Foodbank
We're always in need of fresh produce, or staples such as coconut cream, honey, oil and lentils. Find out how you can donate food and household essentials at any time of the year, including dropping groceries or gift cards to us in Footscray or one of our collection points in Melbourne and Geelong: Give food and goods.
About Foodbank:
– More than 700 people visit Foodbank each week
– Almost 90% of items are donated
– In 2017-18, 62% of Foodbank visitors had no income and 41% were children
– A 'points' system ensures people with no income are the highest priority
– We supplement fresh produce with items grown in our Harvest of Hope market garden
Thank you for your support, we couldn't do it without you.
Leave a reply →