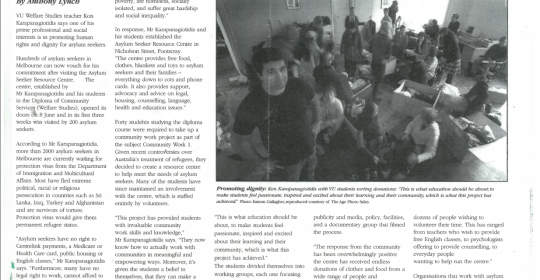 A school project, a few students, and a small gifted space in Footscray. This is the origin story of the largest independent human rights organisation providing vital services to people seeking asylum in Australia.
In the 18 years that the ASRC's doors have been open we've helped build a coalition of compassion across Australia. While right now, and at various times over the previous 18 years, it might seem strange to celebrate in times of crisis, the ASRC is proud to have played a role in helping people seeking asylum to survive and thrive here in Australia. Our work is not finished yet, but this community's achievements to date are still worth celebrating.
So for our 18th birthday, which we will celebrate on Saturday 8 June 2019, we asked Sherrine Clark, our Director of Humanitarian Services and one of the founding staff members of the ASRC to reflect on the successes and challenges that have shaped the nearly two decades that she has spent at the ASRC. Often one to shy away from the spotlight, Sherrine gives a rare interview about her experiences from the ASRC frontline.
---
An interview with Sherrine
"I remember the shock I felt when I first learnt about the lack of support services for people seeking asylum, who were being met with destitution and uncertainty rather than compassion.
In the early days, it was just us. A small group of us doing it all. It was chaotic and all encompassing. All we did was eat, sleep and breathe the ASRC.
Kon and I would be dragging bags of rubbish, at 3am, from the fundraising dinner that we had just put on in a local scout hall. The next morning Kon, a small group of volunteers and I were painting walls and scrubbing floors. We just fought to make it work.
But then people turned up offering to help, to volunteer. It was so organic. One person would turn up out of the blue and say 'I can teach English' and so that's how English classes came about. Then another volunteer came onboard with who could cook, so then we had the community foods program. The local community just showed up, and provided.
We have always responded to the critical unmet need, as the need has grown, so have we.
No one in the initial group of students ever saw their project becoming the human rights behemoth that it has.
It's been hard work. There have been tears but also so much joy, knowing that we've made even the slightest difference in such a difficult time for our clients. We have delivered fridges, counselled people over the phone and fought to change punitive policies in Canberra.
It's pretty epic when you think about it. What an amazing achievement, I'm really proud of what we've been able to build.
Sometimes, when at my local shopping centre, I see people that the ASRC has helped and I get to hear their stories of success, and learn about the positive impact of the support they received from the ASRC.
But I do have sadness, I'm sad that we are still needed. That after 18 years, there are still people who have sought compassion, and who as a result of policy are being punished.
Ultimately we'd like to no longer need to exist. But the reality is, with the SRSS cuts, Fasttrack, it's getting worse."
Sherrine Clark,
Director of Humanitarian Services.
---
For 18 years the ASRC has stood with people seeking asylum. The people seeking compassion, the staff and the volunteers who have celebrated the moments of joy and weathered the punitive Government policies, side by side.
For many people seeking asylum the ASRC is the only place they can seek shelter, medication and a hot meal. But demand on our services has increased beyond our capacity and we need your help now, more than ever before.
Please donate now to the ASRC Winter Appeal to help people seeking asylum.
Leave a reply →