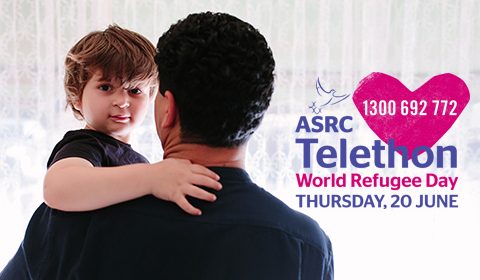 Stand in solidarity with Refugees and the ASRC for a more welcoming and just Australia by making a donation to the ASRC Telethon on World Refugee Day, Thursday 20 June.
Your donation funds live-saving support and empowerment programs that help refugees in our community to thrive and re-write their futures.
The ASRC is calling on the community to raise $1 million at the ASRC Telethon on World Refugee Day, Thursday 20th June 2019.
The ASRC Telethon event celebrates the strength and resilience of refugees, brings attention to the richness and diversity they add to Australia's cultural identity while raising funds to enable the ASRC to support and empower people seeking asylum.
We are planning to raise $1 million in one day to help empower and support people seeking asylum and feel with the strong support of the community that this is achievable as the 2018 Telethon raised over $816,490.
2019 marks the ASRC's 18th year of operation and the telethon's 4th year and is the not-for-profit's largest annual fundraising event, raising more than $1.8 million since 2016.
The Telethon is a live fundraising appeal held from 6am until 10pm at the ASRC's 'Home of Hope' in Footscray, Melbourne.
The event will be live streamed on Facebook and the ASRC team will be joined by Australia's favourite celebrities, media personalities plus supporters and partners as they unite to raise $1 million together to help fund the ASRC's most important services. Watch live for breaking news, interviews and telethon updates or call up and speak to your favourite celebrities and performers – list below, more supporters to be announced soon.
As Australia's largest independent human rights organisation for refugees and people seeking asylum, the ASRC does not accept Federal Government funding and relies on the generosity of the public to meet the complex and increasing needs of people seeking asylum.
"If you believe that everyone deserves the right to seek safety and freedom and that Australia really is a compassionate nation for all, then stand with us at the ASRC Telethon on World Refugee Day, Thursday 20th June. Help us with our aim to raise $1 million in one day. These funds are so incredibly important in helping the ASRC continue to ensure a better life for people seeking asylum in Australia," says Founder and CEO Kon Karapanagiotidis.
Telethon supporters:
The ASRC are excited to be joined again this year by Tamie Fraser, ASRC Patron, Humanitarian & widow of Malcolm Fraser, along with returning personalities and ASRC supporters Missy Higgins, Mark Seymour and a number of new faces including Gretel Killeen, Lehmo and more.
| | | |
| --- | --- | --- |
| Abe Nouk | Angela Pippos | Arnold Zable |
| Benjamin Birchall | Brian Nankervis | Clare Bowditch |
| Constance Hall | Corrine Grant | Dee Madigan |
| Father Bob Maguire | Fawad Ahmed | Gary Lee |
| Geraldine Hakewill | Gillian Triggs | Gretel Killeen |
| Harry Cook | Jamila Rizvi | Jen Cloher |
| Julian Burnside | Kate Durham | Kris Schoroder |
| Lehmo | Lisa Mitchell | Marieke Hardy |
| Mark Seymour | Mark Zito | Michael Short |
| Millie Ross | Missy Higgins | Osamah Sami |
| Tamie Fraser | | |

Join the ASRC on Thursday, 20th June to stand in solidarity with a community of people who believe in a compassionate Australia and a better future for people seeking asylum.
LEARN MORE ABOUT THE ASRC TELETHON
---
Event details
What: ASRC Telethon on World Refugee Day
When: Thursday, 20th June 2019
Where:  ASRC 'Home of Hope' – streamed live on Facebook
 ASRC Telethon Event Page
Time: 6am – 10pm
Website:
www.asrc.org.au/telethon

Ways to donate
SMS 'Hope' to 0437 371 371 to donate
Call 1300 692 772 (or 1300 MYASRC)
Donate online at www.asrc.org.au/telethon/donate
How else you can help?
ASRC Auction
Bid on the ASRC Telethon's "Lots of Hope" auction items. From celebrity meet and greets, to diamond earrings, luxurious handbags, clothing, dining vouchers and money can't buy experiences.

All items will be available at

www.asrctelethonauction.org.au

 

Organise a Fundraiser – sign up at www.asrc.org.au/telethon
During World Refugee Week (Monday 17

th

– Sunday 23

rd

June) host your own school, club or workplace fundraiser to help ensure a better life for people seeking asylum. Your fundraising efforts will contribute to the ASRC Telethon!

Gather friends, host an event like a morning tea, movie night, or take up a personal challenge to raise funds – you'll be helping create a more compassionate and welcoming Australia in doing so.
Social Media
Facebook: ASRC  https://www.facebook.com/Asylum.Seeker.Resource.Centre.ASRC/
Facebook: ASRC Telethon Event
Twitter: @ASRC1
Instagram: @ASRC1
Official Hashtag: #ASRCTelethon
Leave a reply →