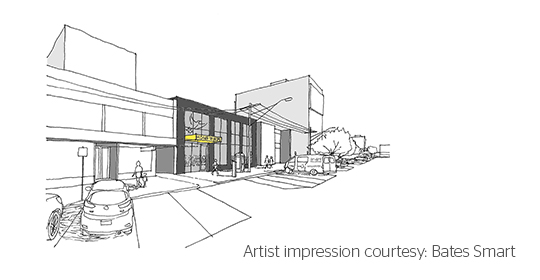 The Asylum Seeker Resource Centre (ASRC) is set to expand with the construction of a new Integrated Services Hub at Dandenong to provide vital services to people seeking asylum in Melbourne's south-east. The ASRC will partner with other service providers to expand vital services offered under one roof.
The Integrated Services Hub is set to open in 2020, and will provide much needed support by providing services including legal aid, a Foodbank, community meals, medical advice, counselling services and education programs.
Construction is soon to commence on an existing 800sqm building generously purchased for the ASRC in 2018 and spans two-storeys. The space will be transformed to include a Foodbank, four classrooms, a prayer room, 12 meeting rooms and a commercial kitchen to provide lunches to people seeking asylum each day.
The refurbishment project has already received generous support from corporate partners with refurbishment design by Garner Davis in collaboration with Bates Smart, planning consultation from Ratio, structural engineering consultancy from Irwinconsult, building surveyance from Philip Chun, access consultation from Architecture and Access, land surveying from Intrax Consulting Engineers and risk assessment from GreenCap.
The new Dandenong centre will deliver place-based holistic services in conjunction with local service providers supporting refugees and people seeking asylum in Melbourne's south-east region, in addition to the near 800 members currently supported from the Footscray facility.
Further to their support of this exciting new project with architecture and interior design services,  Bates Smart is continuing to provide consultation, engaging commercial partners to provide material and services while also providing assistance managing the project.
ASRC and Bates Smart are taking expressions of interest from commercial businesses to provide services and materials to support the construction of the new Integrated Services Hub. For enquiries contact abiola.a@asrc.org.au.
Leave a reply →