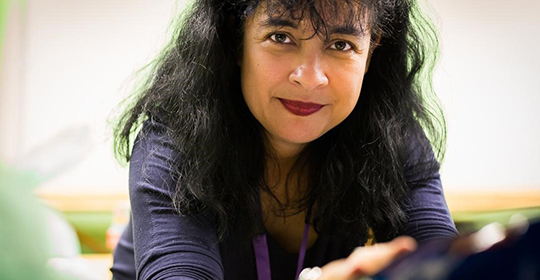 "My name is Suzana, and I'm a Program Support Volunteer with the ASRC's Community Food Program.
I've been volunteering here since April. I'd wanted to volunteer with the ASRC for so long. The catalyst to finally filling in the application form was when my youngest child started high school.
I immigrated to Australia from Slovenia in 1999.  Since arriving, I've been a stay-at-home mum to four kids. I have a Bachelor of Law, but my qualifications aren't recognised in Australia.
Volunteering is a soft entry back into the workforce. When I started, I realised how much I'd missed being in an office environment.  I love hanging out with like minded people, and seeing first-hand that people are compassionate and kind and hopeful, regardless of the political climate. Being here reaffirms my belief in humanity.
There's a lot of variety in the program support role. Sometimes it's helping the Community Food Program staff with admin tasks like checking emails, answering donation inquiries, or helping school groups get their food drives underway. Some days I'll be down in the storage area sorting donations and tidying up, or helping in the Foodbank when they need it. I feel useful in this role because what we do has immediate results.
Volunteering at the ASRC balances my other activism – protesting – which is all about being angry and vocal. When I come here I can do something immediately tangible, and know I'm helping people.  In Foodbank you're feeding people – looking after the most basic human need and commonality. It's a good balance. Also, I feel I've been embraced by this amazing group of volunteers. They're all compassionate, wonderful people.
To any parents who may be considering volunteering here, just do it. You won't regret it!
You can view available volunteer roles here.
Leave a reply →