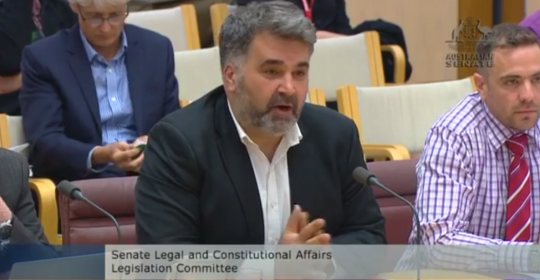 I'm just back from Canberra after a huge day at Parliament House presenting before a Senate Committee on why the Senate must save Medevac. When Medevac was passed in Parliament earlier in the year this was a huge win, providing critically ill refugees in offshore detention with a pathway to receive urgent medical treatment in Australia.
The fate of Medevac weighed heavily on my shoulders and that of Michael Hoey our Detention Advocacy Triage Manager as we arrived at Parliament House on Monday.
We knew that lives hung in the balance today, that a repeal of Medevac would be catastrophic for the refugees in Papua New Guinea (PNG) and Nauru who have been in horrifying conditions for 6 years with no end in sight. A humanitarian catastrophe that had already caused 12 refugees to lose their lives in offshore immigration prisons and scores more to be left with chronic and long standing medical and mental health issues.
Making a compelling case to the Legal and Constitutional Affairs Committee was critical as their report back to the Senate in October on their findings would carry great weight when the bill to repeal is voted on by the Senate in November.
We also knew that we would be up against a myriad of lies, half – truths, distortions and claims without evidence by the Australian Government as to why Medevac should be scrapped.
The day started with a press conference on the lawns of the Senate where we stood side by side with refugee and humanitarian NGOs, doctors, nurses, lawyers and community advocates as one sector, one movement, united in our calling on the Senate to save Medevac. The message from us all was clear. Medevac is working. Medevac is saving lives. This important bill is placing medical decisions where they belong, back in the hands of doctors instead of politicians. It's robust, done with integrity and it's timely, so sick refugees are not spending years in courts but just weeks to get the medical care they critically need.
We were heartened to see the huge interest from the covering the Senate submission. I spoke with everyone from Channel 10 news, Sky News to the ABC and SBS and the message was the same. "Why does the Australian Government want to repeal a law it agrees with in practice, that is saving lives and saving the taxpayer too while making no compromise on issues of security?"
In the afternoon, it was our turn to front the Senate Committee and Michael and I on behalf of the ASRC had been allotted an hour to present alongside representatives from the Refugee Council of Australia, the National Justice Project and the Refugee Action Collective. We knew we had to make this hour count, that we had to put forward a compelling case backed by facts and evidence to dispel all the myths and mistruths that the Australian Government would present. We needed it to be understood unequivocally that this was a medical emergency.
I spoke on how we were at a crossroads when it came to the fate of Medevac and that we had two choices. The first was to repeal Medevac and return us to the dark days where we had to go to court to get the medical transfer of sick individuals, even children who had gone mute and had stopped eating and moving.
Repealing Medevac would allow politicians instead of doctors to once again make life and death decisions. Disastrous decisions that resulted in the deaths of 12 people in offshore immigration prisons. Its repeal would strip the last modicum of hope for sick refugees that they would finally get the care they need by once again forcing them to wait years to even be considered for medical transfer and to have relied on Australian courts to force the government to act.
I spoke instead of the way forward which was to continue with Medevac, a process that was saving lives, limbs and organs. It was working as intended, managed with integrity, robust, effective and empowering doctors to make critical medical decisions.
Together with Michael our Medevac Triage Manager, we busted the myths presented to us from baseless claims that Medevac was causing refugees to self – harm or that the process was a security risk to our country, to claims that it wasn't needed. Michael, as an expert in the field brought a unique and personal perspective to the argument we were presenting, having worked with hundreds of refugees in Nauru and PNG, gathering their medical records, connecting them with doctors and lawyers and helping to facilitate their application.
I highlighted the fact that 94% of people approved for Medevac were also approved by the Minister and that no one had been refused on security grounds and that the Minister at all times had full control of the physical movements of anyone brought to Australia. Instead, I challenged the Committee to ask the real questions such as what are we doing to the refugees in PNG and Nauru to leave them so broken and bereft of hope that they would self – harm and when did the human right to medical care and our obligation to ensure people do not become critically ill or die become optional? We made sure the Committee heard loud and clear that Medevac must be saved.
The work of the refugee and humanitarian sector before the Senate Committee was vindicated at days end when the Department of Home Affairs were finally questioned and forced to concede they had no evidence to provide that Medevac was causing people to self – harm or that anyone had been refused on security grounds. Their house of lies and mistruths were finally being exposed. We know the fight ahead is long but the ASRC will continue to do all we can to help ensure critically ill refugees get the medical care they have the right to.
The Senate Committee will now complete a report for the Senate that will be tabled in October and in November the Senate will decide the fate of Medevac.
May truth, fairness and justice win that day.
Yours in solidarity,
Kon Karapanagiotidis, OAM
---
The ASRC has launched an EMERGENCY APPEAL to help make urgent medical transfers a possibility for sick refugees in Nauru and Papua New Guinea. Your donation funds our team of 7 dedicated staff to help manage the complex Medevac application process.
There has never been a more important time to donate.
Access to medical care is a basic human right and we can't turn our backs on those who need care the most.
Donate NOW  because lives are at risk and Medevac can save them.
Leave a reply →