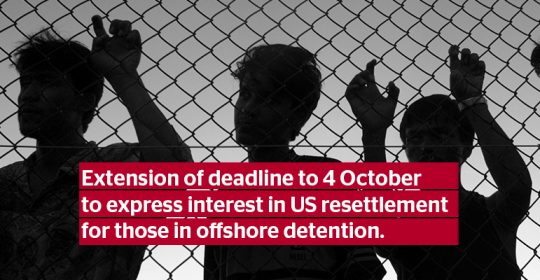 Alert: Extension of deadline to 4 October to express interest in US resettlement for those granted refugee status in PNG or Nauru
If you have been found to be a refugee in Nauru or Papua New Guinea, including if you are currently in Australia, the attached information applies to you and you should read it carefully.
You need to be aware there is a final deadline of 4 October 2019 in order to register your interest in applying for re-settlement to the United States.
Registering for US resettlement by 4 October 2019 does not mean that you will be forced to take up any offer to re-settle in the US. The program is voluntary
However if you do not register by 4 October then you will not have the chance to do so later and you should be aware that the US re-settlement program is the only clear re-settlement option that is available to people found to be refugees in PNG or Nauru, including for those currently in Australia.
If you require advice about this information or help in registering your interest:
If you are living in VIC please call Refugee Legal on (03) 9413-0100 (Monday-Friday, 9am-4pm)
If you are living in NSW or ACT please call Refugee Advice and Casework Service (RACS) on (02) 83557227 (Monday-Friday, 10am-4pm)
If you are living in TAS, SA, WA, NT please call either Refugee Legal or Refugee Advice and Casework Services (above)
Please see the links below for further information from the above organisations about where to get help, and separate information sheets from the US resettlement authority, including a link for information about family reunion from the US, and information from the Department of Home Affairs.
Leave a reply →