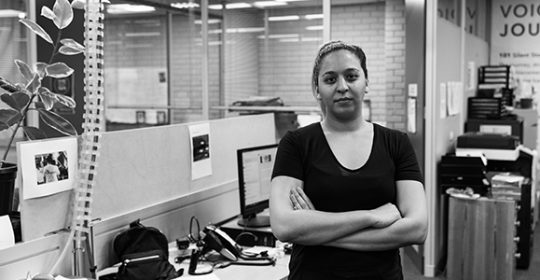 Kash, a member of our Medevac triage team, recently spoke with passion about her work supporting sick men and women through the Medevac process. 
It's not an easy job, but it's an important one and it's helping to save lives.
Kash wanted to share more with you about the work that her team is doing and why their roles need to exist.
My name is Kash, and I work in the Detention Advocacy team at the Asylum Seeker Resource Centre. My team and I help facilitate the medevac application process as part of the Medical Evacuation Response Group (MERG).
I have worked in the Detention Advocacy team since June 2018. Working with many families and their sick children, during the Kids Off Nauru crisis and now working as a part of the Medevac process.
Working in the Detention Advocacy team has been equally challenging and rewarding. I remember thinking before I started the role that all the work I would do would be over the phone and that would be a good protective factor for me to not be overly affected by the work. But the fact is that even though we are miles apart from my clients' suffering and ongoing experiences of inadequate healthcare and a life in limbo are strongly felt by me.
When I speak to refugees on Nauru and PNG we often talk for hours. I can hear the loss of hope in their voices. A darkness surrounds them as they try to survive a life with very little purpose or hope.  
However there are flickers of light and resilience and it is that which I hold on to and pull from them as much as possible.
I have witnessed and stood in solidarity with people through some of their most intense periods of suffering and sadness. Whether it is severe mental health deterioration or chronic or acute physical health issues – our clients are desperate for the chance to live healthy and safe lives.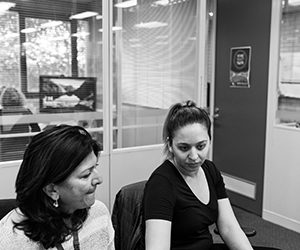 I have read so many medical records and worked on so many cases for the courts I have lost count.
The unique stories of my clients never fade. Every client I have worked with has treated me with respect and honoured me with their trust no matter how hard their circumstances are.
Imagine having a chronic back pain or kidney stones or a hernia or stomach pain.
Imagine being that way for a week, a month, a year.  
Could you cope or live with that kind of condition and pain with no end in sight?
That's the reality for the people I work with. And it's why the Medevac process is so important"
The Medevac Bill and the establishment of the Medical Evacuation Response Group has been a huge step forward in supporting refugees on Nauru and PNG to access the healthcare they so desperately need. My team and I now provide frontline support for refugees to access the Medevac Process. We work with them from start to finish of this process, helping them move through the stages, giving them updates and doing risk assessments and welfare checks throughout. We are very lucky to collaborate with an amazing network of doctors and lawyers to support our clients.
Some of our clients are extremely isolated – they may rarely or never leave their rooms, not eating or sleeping properly – their phone in many ways is the only connection to the outside world, to the idea that people care about them and want them to be safe and healthy. Our contact and support over the phone is vital.
We are processing many applications for the Medevac Process and all are deserving of assessment and the opportunity to request a transfer. Prioritising needs and who to call each day can be hard. 
For every person we can call and support someone else waits. 
These are not 10-minute calls, we talk to people for as long as it takes for them to understand the process, be informed, consented and updated appropriately. 
Our work is challenging, but no matter the challenges that refugees face in offshore and onshore detention we will be there to help however we can. 
I am honoured to work with the men and women on Nauru and PNG. To support them during some of their most intense moments of crises and suffering is an amazing honour. 
Medevac is saving lives, but we need your support to continue our work.
Let's stand together in solidarity with people seeking asylum in offshore detention.
Please Donate NOW to our urgent Medevac Emergency Appeal, and save lives.
Leave a reply →