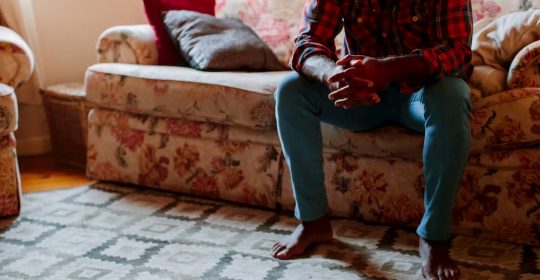 People seeking asylum in Australia are being denied access to justice and their human right to seek safety.
The Australian refugee determination process is unfair and inhumane. 
Imagine for a moment the trauma of being forced to flee your home. To leave everything behind.
Just to have a chance to be safe.
For people who come here seeking safety from war and persecution, our legal system is their only hope for protection. But instead of protecting people, our legal system is punishing people and denying them access to justice. It's a system that is intentionally complex and inconsistent and designed so people's cases for protection fail and they are sent back to harm.
At worst your claim for protection is refused, and at best you are recognised as a refugee but because you came by sea you will only ever be given temporary protection, having to re-apply for protection every few years.
This means you have no right to be reunited with your family and have to re-state your claims for protection again and again, every three or five years, never knowing if you will be granted permission to stay or not. With no certainty or stability how can you plan for your future.
The system is flawed and unfair, formally recognising people as refugees and then denying them permanent protection.
People like Rajesh.
Arriving by boat six years ago, as a traumatized 15 year old, Rajesh found himself in a situation where he was scared and utterly alone.
Trying to navigate his way through an unfair process, the ASRC's Human Rights Law Program (HRLP) was there to assist him in lodging his applications and claim for safety.
After three years in limbo, he was formally recognised as a refugee and granted a protection visa.
"It is very hard for me …again I have to wait to start my life" – Rajesh
But because of unfair laws that apply to those arriving by boat, Rajesh will only ever be eligible for a temporary visa that lasts for just 3 years. This means he will need to reapply for protection every three years, and recount his harrowing story word for word every time. And there is no guarantee that he'll continue to receive protection.
Rajesh will never be able to seek family reunion with his parents and siblings because a temporary visa does not permit people to travel outside of Australia
Rajesh is only one of thousands of people seeking asylum in Australia and being forced to endure our broken asylum system.
The journey toward justice for Rajesh is long and complex. Right now, Rajesh is at the stage of re-applying for his temporary protection visa. 
The only way Rajesh's claim for protection will be granted again is with the help of a good lawyer to navigate the complex and arduous application process. 
A donation to the ASRC puts a lawyer on Rajesh's side and will give him and others like him a fighting chance to live safely here. 
Please donate today to our End of Year appeal.
Your donation will power our Human Rights Law Program for the year ahead, ensuring people seeking asylum get access to justice and can live safely in Australia.
*This story uses de-identified and amalgamated information to protect the identity of people seeking asylum.
Leave a reply →