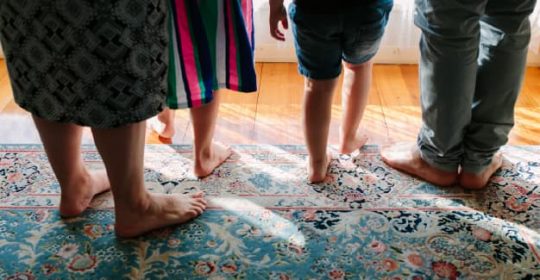 People seeking asylum in Australia are being denied justice and the right to live safely here.
People like Yasin* and his wife Amal*, who came to Australia seeking our protection when it was no longer safe for their young family to live in Iraq.
Soon after arriving in Australia the family were recognised as refugees and granted permanent protection here. 
Settling into their new life here, Yasin got a job and their son and daughter attended school, made friends and enrolled in swimming lessons. 
After years of being stateless and without a certain future to make plans, Yasin and his family were finally happy, stable and safe and proud to call Australia home.
In 2016 Yasin applied for their Australian citizenship. That's when things went wrong.
Rather than grant the family citizenship, the Government instead took the opportunity to revisit Yasin's claim for asylum and forced the family to re-apply for protection. 
As part of the application process Yasin and his wife independently had to recount every single detail of their lives, from birth to now. A task that many would find impossible. 
The Government determined that minor inconsistencies in their applications were grounds for Yasin's permanent protection visa to be cancelled, and with it, his family's. 
Suddenly the family's lives were at risk again, facing real danger should they be deported.
Not only were they facing deportation but without a valid visa Yasin's rights to work were revoked and his family's access to Medicare withdrawn. Without income the family were now destitute and referred to the Asylum Seeker Resource Centre (ASRC) for crisis support and legal help with their case. 
What was happening to Yasin's family was wrong and completely unfair.
Lawyers from the ASRC's Human Rights Law Program provided specialised legal support, assisting Yasin to challenge the cancellation of his visa in court. Our lawyers skillfully argued that the cancellation process had been procedurally unfair, and the Government conceded. 
Yasin's (and eventually his family's) permanent protection visas were reinstated and the wrongs against the family were righted. 
Finally the family could live safely in Australia again thanks to the skill and expertise of the ASRC's Human Rights Law Program lawyers.
Without a good lawyer to fight for families like Yasin's, their cases for protection are likely to fail and a fair process not followed. 
Our lawyers are the last line of defence for already vulnerable people, fighting for families in the court to help:
Prevent unfair visa cancellations

Protect families from deportation

Uphold justice and protect people's rights to seek safety
Last year alone the Human Rights Law Program handled 1,232 new requests for legal assistance, in addition to all our existing cases, and took on 92% of these cases.
Donating to the ASRC today puts a lawyer on the side of families like Yasin's and gives them a fighting chance at safety and survival.
*This story uses de-identified and amalgamated information to protect the identity of people seeking asylum. 
Leave a reply →