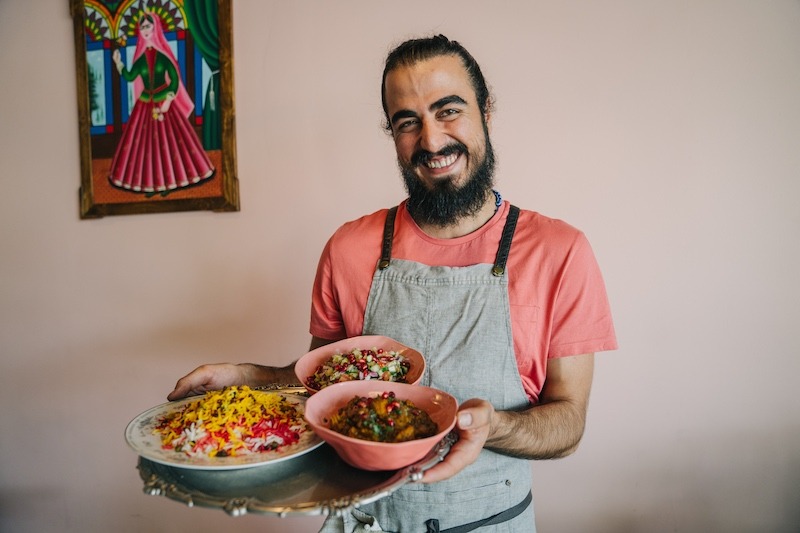 Hamed is a chef, restaurateur and Iranian refugee. He is part of this year's Feast for Freedom representing his Persian heritage, with three dishes inspired by his childhood memories and the beginnings of his cooking journey.  This is his story.
__
"I learnt to cook from my mother's careful explanations. She taught me everything I know with patience, detail and her secrets. Cooking is my passion. I love feeding people. After training and working as a chef in my home country of Iran I eventually opened my own restaurant in Tehran. I was happy to be able to share my food with people. 
But because of my religion, I had to leave everything behind. I am a boat person. I like to say that to people. It is crazy to risk your life on a fishing boat. But it only seems crazy if people don't know the dangers you are leaving behind.
When I came to Melbourne, I handed out over fifty resumes looking for a job in a kitchen. One person called me back. They offered me a job paying $8 an hour to wash dishes. That was a real low point for me. Without the right certificates, good English or Australian references, no one wanted to take me on. 
Then I found the Asylum Seeker Resource Centre. They feed hundreds of people everyday from their kitchen and I began volunteering my skills. That was really wonderful. Everyone was so kind to me and the other volunteers taught me English. ASRC came to feel like my second home. Through that experience, I've been able to get to where I am today.

Six months ago I opened a restaurant. We are a social enterprise helping people seeking asylum to land their first job. It doesn't matter if they can't speak English if they don't have qualifications or a reference. They can make it here. We can be the first step for people seeking asylum to find work in Australia. Currently, we employ ten people but I hope we will grow even bigger one day. 
For this year's Feast for Freedom I've put forward three traditional Iranian recipes and a dip that my father made up. I call this dip 'Dadami' which means 'from my father'. This dip was always in the fridge growing up. We ate it almost everyday, usually with bread. It brings back a lot of memories when I make this dip. 
This is part of my story that people have read, but I think now it's time that people try some of these recipes. They're more than just food, they're my culture and my memories."
___
If you'd like to take part in Feast for Freedom and cook Hamed's recipes or see what other recipes have been gifted, click here.
Join this life-changing food experience by hosting your own Feast for Freedom (19 – 22 March) in your home or workplace to raise funds that support people seeking asylum.  

Leave a reply →