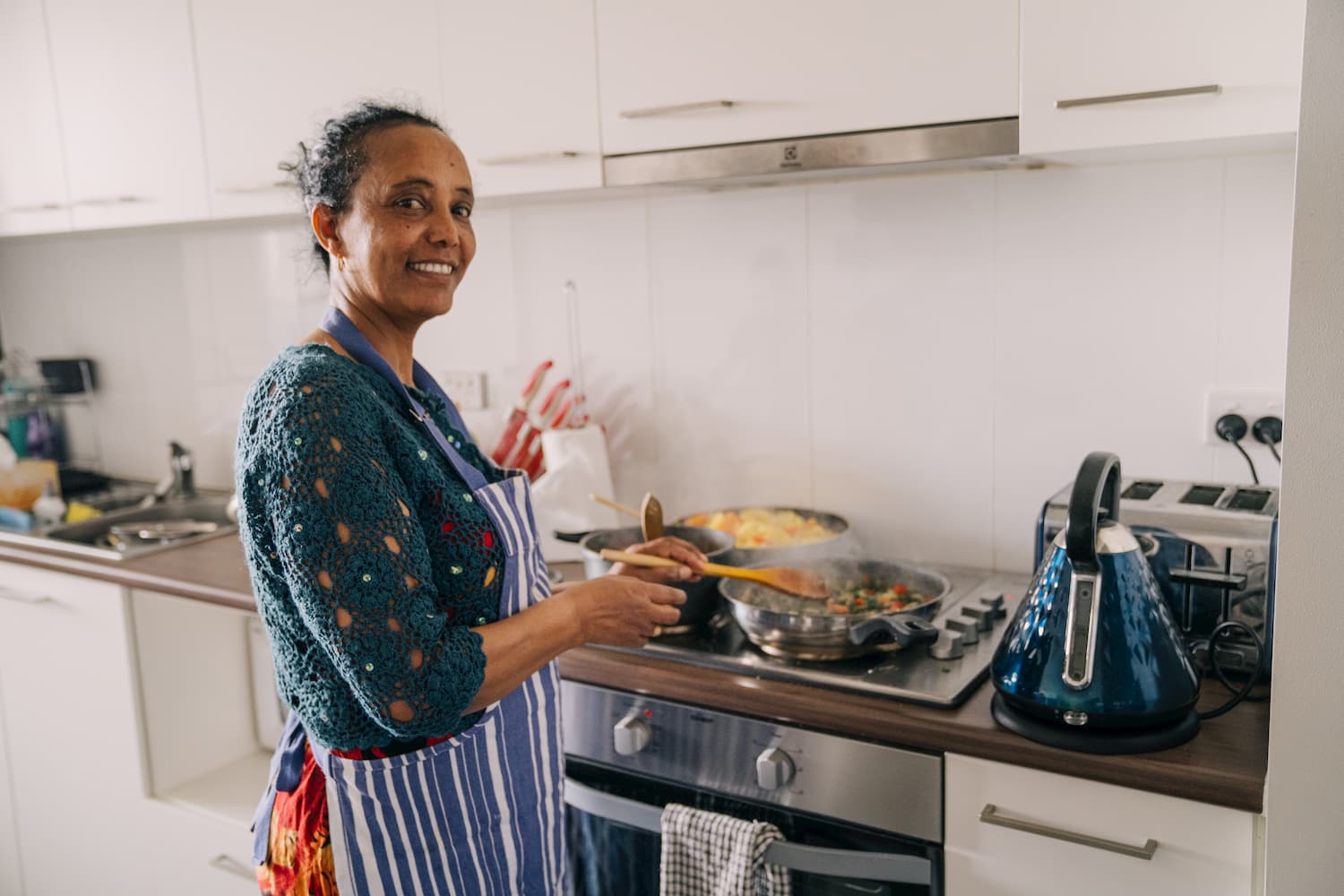 Genet came to Melbourne as a refugee from Addis Ababa, Ethiopia. The first few years were very challenging not knowing the language and without a support system, but she never lost hope and worked hard to learn English and to adapt to Australia. Today, she lives a quiet and happy life with her husband and they share what they love the most: Coffee and food. She has gifted her beloved family recipes for Feast for Freedom as a sign of gratitude with her Australian community. This is her story.
__
"In our culture you are not allowed to say 'this is mine'. You have to share and you have to love each other. So when we cook, we cook for everyone who needs a meal.
In Ethiopia, Injera is the traditional bread that we use with our hands to eat everything on our plate. You can buy this bread in Australia or you can try to make it with teff flour. It's delicious. But it doesn't quite taste like it does when we make it at home in Ethiopia. I think it is the difference in the water here.
During my first few weeks in Australia it was really hard to find food that I could stomach. I had never tried anything that wasn't Ethiopian and so I found it hard to eat these new foods. I was crying every day because the food had no spices. It wasn't hot enough. We are raised eating spicy food every day. Now I have found markets that sell Ethiopian ingredients and I mostly cook at home and even love Australian ingredients I never knew before.
When I first came to the Asylum Seeker Resource Centre I was very scared. I didn't know how to talk, I didn't know how to ask. I started to cry. I missed my family, my country and everything from home. The receptionist said to me: "You came to a safe place, don't worry, we are here to help you."
ASRC helped me a lot. They found a place for me to sleep, they showed me how to get around Melbourne and they encouraged me to find my confidence. Because of them I felt safe. They didn't just help me, they are also helping many others. The ASRC made me feel welcome.
For the past year and a half I have been volunteering at the ASRC. I work every Thursday in their fundraising team doing administrative work. I have learnt about the fundraising world, how to keep track of donations and I have written a lot of 'Thank you' cars to ASRC donors.
Australia is my home country now. I love Australia and I love Australian people. They are helping a lot, a lot, a lot, a lot. I know one day I'll open my Ethiopian Coffee shop and I'll invite you to a traditional coffee ceremony with one of the best coffees in the world.
It makes me so happy to be able to share these recipes. Please try Ethiopian food, it's really very simple to make. Cook these recipes and raise money to help people seeking asylum, people like me. Thank you."
___
If you'd like to take part in Feast for Freedom and cook Genet's recipes or see what other recipes have been gifted, click here.
Join this life-changing food experience by hosting your own Feast for Freedom (19 – 22 March) in your home or workplace to raise funds that support people seeking asylum.  

Leave a reply →