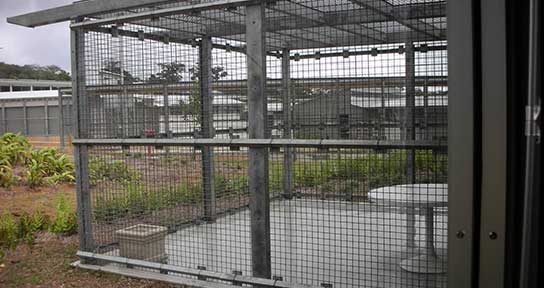 Media Release
13 August 2020
Yesterday the Asylum Seeker Resource Centre was contacted by people detained at Yongah Hill detention centre in WA, who were worried that they had been asked to undergo medical checks, likely a 'fitness to travel' check in preparation for their transfer to North West Point Immigration Detention Centre on Christmas Island.
Today, some people detained there have been told to collect their property at 1:00pm, therefore it seems likely there is a flight transferring people from the Yongah Hill detention facility in WA to Christmas Island today.
Lawyers at the ASRC are writing to Australian Border Force (ABF) seeking confirmation that vulnerable persons will not be transferred and setting out risks to their safety and mental and physical well being due to age, health needs, local connections to family and community and active legal cases.
ABF have provided only standard format responses which do not address the particular concerns raised.
ASRC has been informed that ABF held a meeting recently with people detained at Melbourne Immigration Transit Accommodation (MITA), advising that due to the increased risk of COVID-19, some people from MITA will be transferred to Christmas Island.
People were told they would be given 2-3 day notice. So far ABF have not identified who will be transferred, nor referred to their own public assurances that no refugees would be transferred to the Christmas Island detention facility.
ABF confirmed that people who arrived in Australia under the Medevac laws will not be transferred to Christmas Island.
ASRC is concerned that despite ABF's public assurances that no refugees would be transferred to Christmas Island, it seems that refugees are amongst those to be transferred.
The ASRC is highly concerned about people being transferred between interstate and overseas detention facilities in the Victorian State of Disaster, and contrary to travel bans across borders, with high COVID-19 risks to people being transferred, detention centre staff and communities around them.
In addition, ASRC is very concerned that Christmas Island lacks medical facilities for treating most medical conditions, including any Covid-19 cases.
People will be an hours long flight away from emergency medical treatment if needed.
Poor internet on Christmas Island limits all forms of communications, preventing people from connecting to vital support networks of family, and access to legal assistance.
Principal Lawyer and Manager of ASRC's Human Rights Law Program, Dr Carolyn Graydon said:
"The Department's plan to reshuffle people detained across states and re-open Christmas Island is highly risky and gambles with the lives of detainees, staff and ultimately, places the whole community at risk.
"The clear answer to managing COVID-19 risks in overcrowded detention centres is to release people into the community so they can take self-protective measures like everyone else in Victoria and other states."
"More than half of those detained are refugees or people seeking with no criminal background at all and who present no risk to the community and should be immediately released for their safety and to relieve the overcrowding pressure across the detention network.
"There is no need for the Department to engage in risky interstate transfers that mix groups of people, moving them ácross the country contrary to state travel restrictions."
"There is no need to re-open Christmas Island and with it another chapter of isolated, health harming, punishing detention, at further wasteful expense to taxpayers."
ENDS
For interviews please contact Marcella Brassett 0411 026 142
Leave a reply →