Most people seeking asylum cannot access a basic safety net that helps them live safely during the refugee determination process. For more than 18 years the ASRC has stood ready to support people like Kamla who would otherwise have gone without access to the basic things in life that make us feel safe like food, stable shelter and access to healthcare. For many, the ASRC is the difference between safety and destitution.
For Kamla, our community of donors have already been the difference. This is what you make possible and why we can't do this without you. Please read Kamla's letter below and give as generously as you can to the ASRC Winter Appeal.
---
Kamla's letter
"I can think that at this time of year you are receiving many letters in your mailbox. In fact, now that I have my own place to stay, with my own address and my own letterbox, perhaps I'll start receiving letters too. But I wouldn't mind that so much, having a roof over my head is something I cherish.
Know what I'm writing to you comes from the heart and a place of love.
My name is Kamla, I volunteer here at the ASRC and I like to volunteer, to help other people, because the ASRC is very good, helping each other and for many years, helping me. So many people come here every day, needing help with so much things – food, housing, health, support with their happiness.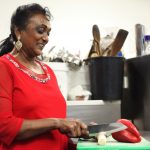 As I write this letter to you, I am very happy. And while it took me a while to get there, I can now live freely and in my community. I work, I volunteer, I have friends and I live happily and safely. But it wasn't always that way for me, and in fact, I came to Australia to make sure I could live and start a new life here with nice, generous and loving people.
For me, when I left my country, I was excited, but nervous not knowing what would be on the other side of my journey. And in some cases I've found distress, despair and a feeling of loneliness that no one believed that my safety was in jeopardy, I've also found great kindness, love and generosity from so many people – people just like you.